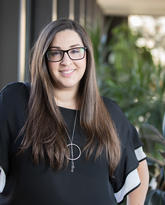 Anusha Kassan
Associate Professor
PhD - Counselling Psychology,
McGill University
Pre-Doctoral Internship in Professional Psychology
University of California, Irvine Counselling Center
MA - Counselling Psychology
McGill University
BA - Psychology (Honors)
Concordia University
Research and Scholarly Activity
Research areas
Social justice
Multicultural counselling
Multicultural counselling competencies
Diversity
Immigration
Training and supervision
Teaching and learning methods
Feminist-multicultural pedagogy
Activities
Dr. Kassan's scholarly interests are informed by her own bi-cultural identity. As such, her program of study is informed by an overarching social justice lens. Her research presently includes two major foci. First, she is conducting research pertaining to migration experiences across different populations (i.e., newcomer youth, same-sex binational couples, and LGBTQ newcomers). Second, she is carrying out research in the area of teaching and learning, investigating cultural and social justice competencies among graduate students and field supervisors. Dr. Kassan is committed to the implications of this research for counselling training and practice.
Selected Projects:
▪ School Integration among Canadian Newcomer Youth: An Arts-Based Ethnographic Study (PI) - SSHRC Insight Development Grant - Government of Canada
▪ School Integration among Adolescent Newcomers (PI) - URGC Seed Grant & PACE Grant - University of Calgary; AACES Research Grant - Alberta Advisory Committee for Educational Studies; ACCFCR Seed Grant - Alberta Centre for Child, Family, and Community Research
▪ How are we Making a Difference out there? Teaching and Learning about Social Justice through Practicum Education - Teaching and Learning Grant - Taylor Institute, University of Calgary
Professional & Community Affiliations
In addition to engaging in service activities across the university community, Dr. Kassan is involved with several psychology organizations and communities. For example, she is currently the Chair of the Section on Counselling Psychology of the Canadian Psychological Association. Moreover, she provides regular training to clinicians in the community on topics pertaining to cultural and social justice competencies. Dr. Kassan has recently begun collaborating with the Calgary Catholic School District on research pertaining to school integration among newcomer youth.
American Psychology Association, Member
Association for Women in Psychology, Member
Canadian Psychology Association, Member
Biography
Dr. Kassan completed her graduate studies in Counselling Psychology at McGill University, and did her Pre-Doctoral Internship in Professional Psychology at the University of California, Irvine Counselling Center. Upon graduating, she held a Visiting Assistant Professor Position in the Counselling Psychology Program at the University of British Columbia and recently joined the faculty in Educational Studies in Counselling Psychology at the University of Calgary.
Publications
Selected Publications:
Kassan, A., Sinacore, A. L., & Green, A. R. (in press). Learning about social justice through a self-reflective field activity. Manuscript submitted for publication. Psychology of Women Quarterly.
Kassan, A., &, A. R. (2019). Prioritizing experiential learning and self-reflection in the development of multicultural responsiveness. Journal of Educational Thought, 51(3), 385-406.
Cohen, J., & Kassan, A. (2018). Being in-between: A model of cultural identity negotiation for emerging adult immigrants. Journal of Counselling Psychology, 65(2), 133-154. http://dx.doi.org/10.1037/cou0000265
Nakamura, N., Kassan, A., & Suehn, M. (2017). Resilience and migration: The experiences of same-sex binational couples in Canada. Journal of Gay and Lesbian Social Services, 29(2), 201-219. http://dx.doi.org/10.1080/10538720.2017.1298489
Kassan, A., & Sinacore, A. L. (2016). Multicultural counselling competencies with female adolescents: A retrospective qualitative investigation of client experiences. Canadian Journal of Counselling and Psychotherapy / Revue canadienne de counseling et de psychothérapie, 50(4), 402-420. Retrieved from http://cjc-rcc.ucalgary.ca/cjc/index.php/rcc/article/view/2890
Kassan, A., Fellner, K. D., Jones, M. I., Palandra, A. L., & Wilson, L. J. (2015). (Re)considering novice supervisor development through a social justice lens: An experiential account. Training and Education in Professional Psychology, 9(1), 52-60. http://dx.doi.org/10.1037/tep0000041
Nakamura, N., & Kassan, A. (2013). Understanding the experiences of immigrant sexual minority women through a cultural identity model. Women & Therapy, 36(3-4), 252-267. https://doi.org/10.1080/02703149.2013.797848
Sinacore, A. L., Ginsberg, F., & Kassan, A. (2012). Feminist, multicultural, and social justice pedagogies in counselling psychology. In C. Z. Enns & E. N. Williams (Eds.), The Oxford Handbook of Feminist Multicultural Counselling Psychology (pp. 413-431). New York, NY: Oxford University Press. doi:10.1093/oxfordhb/9780199744220.013.0022
Sinacore, A., Kassan, A., Borgen, W., A., Daniluk, J., Leong, B., & Nicols, J. (2011). Canadian counselling psychologists' contributions to applied psychology. Canadian Psychology, 52(4), 276-288. doi:10.1037/a0025549.
Sinacore, A. L., Mikhail, A. M., Kassan, A., & Lerner, S. (2009). Cultural transition of Jewish immigrants: Education, employment, and integration. International Journal for Educational and Vocational Guidance, 9(3), 157-176. http://dx.doi.org/10.1007/s10775-009-9166-z
Awards
Selected Awards:
Teaching Award - University of Calgary - 2019
Seisoh Sukemune Encouragement of Early Career Research Award - International Council of Psychologists - 2018
Development Grant - University of Calgary - 2015
Research Award - The University of British Columbia - 2011
Richard H. Tomlinson Fellowship - Mcgill University - 2003
Richard H. Tomlinson Fellowship - Mcgill University - 2002