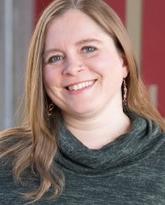 Aubrey Hanson
Assistant Professor
PhD - Educational Research
University of Calgary, 2017
MEd - Sociology and Equity Studies in Education
Ontario Institute for Studies in Education of the University of Toronto, 2008
BEd - Secondary Education
Ontario Institute for Studies in Education of the University of Toronto, 2004
BA (Honours) - English
University of Victoria, 2001
Research and Scholarly Activity
Research areas
Anti-oppression education
Cultural studies
Curriculum studies
First Nations, Metis and Inuit education
Gender studies
Indigenous studies
Interpretive research
Language arts
Lesbian, gay, bisexual transgender and queer studies
Social justice and equity in education
Activities
Aubrey Hanson's research focuses on the relationships between Indigenous literatures, education, and the resurgence of Indigenous communities. She investigates how the imaginative work of the Indigenous literary arts matters to Indigenous peoples' ongoing efforts to sustain healthy communities. In this work, she focuses on gender, sexuality, resilience, and urban space in relation to Indigenous literary arts.
Current Projects:
Innovative Initiatives in First Nations, Métis, and Inuit Education within Undergraduate Teacher Education (Alberta Education)
Indigenous Creativity and Presence in the City: Unsettling and Reframing Calgary (SSHRC Insight Development Grant)
Oo'mahn'istay Iikakimaaks: You've Got a Story - Next Steps to a New Beginning (Werklund School of Education, Welcoming Indigenous Students to Campus)
Relational Pedagogies for Engaging Students in Online Indigenous Education (Teaching and Learning Grant)
Investigating Student Experiences Learning in Indigenous Education with and through the Land (Teaching and Learning Grant)
Professional & Community Affiliations
Dr. Aubrey Hanson is a member of the Métis Nation of Alberta and sits on the Alberta Métis Education Council. She is the Co-President of the Canadian Association for the Study of Indigenous Education (CASIE), a constituent association of the Canadian Society for the Study of Education (CSSE). She Co-Coordinates the MEd Interdisciplinary Option Indigenous Education: A Call to Action. She has served as an Executive member of the Indigenous Literary Studies Association (ILSA) and has collaborated on a number of events focused on arts, education, and Indigenous community. Her membership in academic associations includes the following organizations:
Biography
Aubrey Jean Hanson is a member of the Métis Nation of Alberta and grew up in Calgary. Her ancestors trace back to Métis, German, Icelandic, French, Scottish, and English communities. Aubrey earned a BA (Honours) in English from the University of Victoria. She graduated from her BEd at OISE/UT and subsequently taught for the Toronto District School Board while completing her MEd at OISE/UT. After returning to Calgary, Aubrey taught in the Calgary Board of Education and then completed a PhD in Curriculum and Learning here at the University of Calgary. She joined the Werklund School of Education as a faculty member in 2015. Aubrey's current research focuses on Indigenous literary arts, language arts curriculum, and Indigenous education.
Publications
Hanson, A. (2020). Literatures, communities, and learning: Conversations with Indigenous writers. Wilfrid Laurier University Press. (Publisher listing)
Hanson, A. (2020). Reading Chrystos for feminisms that honour two-spirit erotics. In S. Nickel & A. Fehr (Eds.), In good relation: History, gender, and kinship in Indigenous feminisms (pp. 123-135). University of Manitoba Press. (Publisher listing)
Hanson, A. (2020). Teaching Indigenous literatures for decolonization: Challenging learning, learning to challenge. Alberta Journal of Educational Research, 66(2), 207-222. (Available online)
Poitras Pratt, Y., & Hanson, A. (2020). Indigenous instructors' perspectives on pre-service teacher education: Poetic responses to "difficult" learning and teaching. Race, Ethnicity and Education. (Available online)
Morris, M., & Hanson, A.J. (2019). Remembrance across borders: A dialogue on one educator's experience of studying Indigenous education in Germany. Seminar: A Journal of Germanic Studies, 55(4), 360-378. (Available online)
Hanson, A. (2019). Holding home together: Katherena Vermette's The Break. Canadian Literature, 237, 27-45. (Journal website)
Hanson, A. (2018). Relational encounters with Indigenous literatures. McGill Journal of Education 53(2), 312-330. (Available online)
Hanson, A. (2018). On teaching queer Indigenous literatures. English in Australia: Journal of the Australian Association for the Teaching of English 53(2), 68-72. (Journal website)
Poitras Pratt, Y., Louie, D.L., Hanson, A.J., & Ottmann, J. (2018). Indigenous education and decolonization. Oxford Research Encyclopedia of Education. Oxford University Press. (Journal website)
Hanson, A.J. (2017). Reading for reconciliation? Indigenous literatures in a post-TRC Canada. English Studies in Canada 43(2-3), 69-90. (Journal website)
Louie, D.L., Poitras Pratt, Y., Hanson, A.J., & Ottmann, J. (2017). Applying Indigenizing principles of decolonizing methodologies in university classrooms. Canadian Journal of Higher Education 47(3), 16-33. (Journal website)
Poitras Pratt, Y., Lalonde, S., Hanson, A., & Danyluk, P. (2017). Responding to the TRC Calls to Action: Indigenizing a graduate program. In P. Preciado Babb, L. Yeworiew, S. Sabbaghan, & J. Lock (Eds.), Selected proceedings of the IDEAS conference: Leading educational change (pp. 104-112). Calgary, Canada: Werklund School of Education, University of Calgary. (Available online)
Lund, D.L., Holmes, K., Hanson, A., Sitter, K., Scott, D., & Grain, K. (2017). Exploring duoethnography in graduate research courses. In J. Norris & R.D. Sawyer (Eds.), Theorizing curriculum studies, teacher education, and research through duoethnographic pedagogy (pp. 111-129). New York, NY: Palgrave Macmillan.
Hanson, A., & Daniels, D.L. (2015, September.) If these walls could talk: The physical traces of residential schools. The Walrus 12(7), 24-33. [Visual essay: Photography by Lana Šlezić.] (Available online)
MEDIA ENGAGEMENT