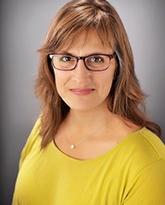 Birdie Bezanson
Director of Internships and Practica
Instructor
Doctorate of Philosophy, Counselling Psychology
University of British Columbia
Master of Education, Counselling
Acadia University
Bachelor of Education
University of Toronto
Bachelor of Commerce
Saint Mary's University
Research and Scholarly Activity
Research areas
Mental health and well-being
Multicultural counselling competencies
Positive youth development
Practicum
Professional education
School-based prevention programs
Training and supervision
Child and youth mental health
Activities
Dr. Bezanson's extensive travel and time spent living in other countries has cultivated a deep curiosity in the methods and practices of non-western healers. While at UBC she developed an interdisciplinary program of research to study the systems of healing ascribed to by traditional healers in the Açores, Portugal and the implications of these practices for this immigrant group in North America. In her research she sought to develop culturally sensitive interventions for immigrant populations. Her interests are now centered on utilizing mindfulness as a universal intervention for children and youth in academic settings and as a clinical training tool for preparing preservice counsellors/psychologists for developing a nurturing a deep therapeutic alliance with clients.
Biography
Dr. Birdie Bezanson completed her PhD in Counselling Psychology at the University of British Columbia. She is alumna of Acadia University, completing her Masters of Counselling in 2000 in the Department of Education. Birdie has worked primarily with youth in educational settings and in residential treatment facilities. Her clinical practice has focused on youth who have been affected by complex trauma and more recently, children and youth with learning challenges. She moved from the Annapolis Valley, Nova Scotia to join the team at University of Calgary. She is the Director of Internship and Practica in the Counselling Psychology program, Educational Studies in Psychology, Werklund School of Education. Dr. Bezanson also teaches in the master's program.
Publications
Bezanson, B. (2018). Book Review of "Character Strengths Interventions: A Field Guide for Practitioners". Canadian Journal of Counselling and Psychotherapy / Revue canadienne de counseling et de psychothérapie, 52(3). Retrieved from https://cjc-rcc.ucalgary.ca/article/view/61237
James, S., Harris, S., Foster, G., Clarke, J., Gadermann, A., Morrison, M., & Bezanson, B. J. (2013). Revisioning Clinical Psychology: Integrating Cultural Psychology into Clinical Research and Practice with Portuguese Immigrants. Frontiers in Psychology, 4, 164. http://doi.org/10.3389/fpsyg.2013.00164
Invited Talks
Bezanson, B J. (2017, November). Mindfulness and the Teenage Brain. Horton High School, Annapolis Valley Regional School Board. Presented to teachers and staff, 1 hour.

Bezanson, B. J. (2017, March). Specialists Reports: Use and Misuse. Department of Education, Acadia University. Present to pre-service counsellors. 1 hour.
Conference Presentations
Morrison, M., Bezanson, B. J. & James, S. (2009, August). Curandeiros and Agonias in the Azores: Traditional Healers through the Eyes of Health Care Professionals. Paper presented at the Integrating Traditional Healing Practices into Counselling and Psychotherapy 5th Critical Multicultural Counselling and Psychotherapy Conference, Toronto, Canada.
Inofrmation Pamphlet
Bezanson, B. J. & James, S. (2007). Health Care Information for the Portuguese Immigrant Community. The Language of Illness in the Portuguese Immigrant Community: Getting What You Need from Health Care Professionals. Produced in English and Portuguese. The Culture, Spirituality, and Mental Health Research Lab, University of British Columbia, Vancouver