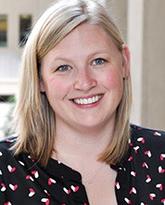 Carly McMorris
Assistant Professor, PhD, RPsyc
PhD - Clinical-Developmental Psychology
York University, 2015
Master of Arts - Clinical-Developmental Psychology
York University, 2009
Bachelor of Arts (Hons) - Psychology
University of Calgary, 2006
Courses
EDPS 685: Child and Adolescent Counselling
EDPS 763: School and Clinic-Based Interventions
*GRADUATE STUDENT SUPERVISION
Dr. McMorris is currently accepting Masters and PhD students for Fall of 2021. If you are interested in working with her, it is highly recommended that you connect with Dr. McMorris prior to the application deadline.
Research and Scholarly Activity
Research areas
Autism Spectrum Disorders
Child and youth mental health
Child development
Risk and protective factors
Developmental psychopathology
Intellectual disabilities
Psychological assessment and diagnosis
Eating disorders
Neurodevelopmental disorders
Child health
Activities
Dr. McMorris' research focuses on how to improve the mental health and well-being of children and adolescents with neurodevelopmental disorders (NDDs), such as autism, fetal alcohol spectrum disorder (FASD), and cerebral palsy (CP). She is particularly interested in understanding why a number of children with autism are at heightened risk for experiencing mental health issues. Specifically, she investigates the biological-psychological and social factors that contribute to mental health issues in children and youth with NDDs, and how such issues impact children and families. She also examines ways to effectively treat mental health issues in children and youth with NDDs through modified psychological treatments, such as cognitive behaviour therapy. Lastly, she aims to identify ways to prevent mental health issues from developing through peer mentorship programs and inclusion in sport and physical activity (e.g., Special Olympics).
Theoretical Orientations:
developmental
biopsychosocial
cognitive-behavioural
Biography
Dr. Carly McMorris has a PhD in Clinical-Developmental Psychology from York University (Toronto, Ontario). She completed her clinical internship at The Hospital for Sick Children (SickKids; Toronto, Ontario), and is a Registered Psychologist in Alberta (#4997). In the fall of 2015, she moved to Calgary and completed a postdoctoral fellowship in the Department of Paediatrics, Cumming School of Medicine at the University of Calgary and the Owerko Centre at the Alberta Children's Hospital Research Institute. Dr. McMorris joined the Werklund School of Education in 2016 as an Assistant Professor in the School and Applied Child Psychology program.
Current Projects (Selected)
1) Facing Your Fears: Improving the Mental Health Services of Children and Youth with Neurodevelopmental Disorders
Role: Principal Investigator
Funded by: Alberta Children's Hospital Foundation
Dates of project: 2019-2024
2) Suicidality in children and youth with autism
Role: Principal investigating
Funded by: Multiple sources
Dates of Project: 2019-2022
3) Reducing Stress and Anxiety in Caregivers and Individuals with Neurodevelopmental Disorders: Effectiveness of a 6-week Virtual
Mindfulness-Based Intervention
Role: Principal Investigator
Funded by: Multiple sources
Dates of Project: 2020-2022
4) Anxiety and Depression in Youth with Cerebral Palsy: Role of Physiological Risk Factors (CEREBRUM)
Role: Principal Investigator
Funded by: HBI Robertson Fund for CP Research
Dates of Project: 2017-2018
5) Brain Development and Internalizing Symptoms in Youth with Fetal Alcohol Spectrum Disorder
Role: Co-Investigator
Funded by: Canadian Institutes for Health Research (CIHR)
Dates of Project: 2019-2024
6) Peer Mentorship Program Promoting Well-Being and Mental Health: Supporting University Students with Autism
Role: Co-Principal Investigator
Funded by: Multiple Sources
Dates of Project: 2019-2021
Professional & Community Affiliations
Given Dr. McMorris' broad research and clinical interests, she has affiliations with a variety of professional and community organizations related to child psychology, typical and atypical development, autism spectrum disorder and other neurodevelopmental disorders.
College of Alberta Psychologists, Registered Psychologist
Canadian Psychological Association & Psychologists' Association of Alberta, Member
Owerko Centre at the Alberta Children's Hospital Research Institute, Full Member
Alberta Children's Hospital Research Institute (ACHRI), Full Member
Mathison Centre for Mental Health, Research and Education, University of Calgary, Associate Member
Hotchkiss Brain Institute (HBI), Associate Member
O'Brien Institute for Public Health, Associate Member
International Society for Autism Research, Member
Society for Research in Child Development (SRCD), Member
Publications
(SELECTED LAST 2 YEARS)
Andre, Q., McMorris, C.A., Ritter, C.*, Kar, P., Gibbard, B., Tortorelli, C., & Lebel, C. (accepted). Different brain profiles in children with prenatal alcohol exposure with or without early adverse exposures. Human Brain Mapping.
Howe, S.*, Hewitt, K.*, Baraskewich, J.,*, Cassidy, S., & McMorris, C.A. (published online). Suicidality in children and youth with and without autism spectrum disorder: A systematic review of existing risk assessment tools. Journal on Autism and Developmental Disorders. https://doi.org/10.1007/s10803-020-04394-7
Cairncross, Z., Chaput, K., McMorris, C.A., Ospina, M., & Metcalfe, A. (published online). Impact of the underlying cause of preterm and term births on long-term child health. Paediatric and Perinatal Epidemiology.
Cothros, N., Martino, D., McMorris, C.A., Stweart, D., Tehrani, A., & Pringsheim, T. (2019). Prescriptions for alpha agonists and antipsychotics in children and youth with tic disorders: A pharmacoepidemiologic study. Tremor and Other Hyperkinetic Movements, 9. doi:10.7916/tohm.v0.645.
Schuetze, M., Cho, I.K., Vinette, S., Rivard, K.B., Ten Eycke, K., McMorris, C.A., McCrimmon, A., Dewey, D., & Bray, S.L. (2019). Intact reward response towards restricted interests in ASD during reinforcement. Developmental Cognitive Neuroscience, 38, 1-12. doi: 10.1016/j.dcn.2019.100668.
Lebel, C., McMorris, C.A., Ritter, C.*, Kar, P, Andre, Q., Tortorelli, C., & Gibbard, W.B. (2019). Characterizing adverse prenatal and postnatal experience in children. Birth Defects Research, 111 (12), 848-858. doi: 10.1002/bdr2.1464
Baraskewich, J.* & McMorris, C.A. (2019). Internalizing mental health issues in individuals with neurodevelopmental disorders: Implications for practitioners. Current Reports on Developmental Disorders, 6(1), 1-18. doi: 10.1007/s40474-019-0154-9
McMorris, C.A., Baraskewich, J.*, Ames, M., Ncube, B., Shaikh, K., & Bebko, J.M. (2018). Mental health issues in post-secondary students with autism spectrum disorder: Experiences in accessing services. International Journal of Mental Health and Addiction, 17 (3), 585-595. doi: 10.1007/s11469-018-9988-3
Ncube, B., Shaikh, K., Ames, M., McMorris, C. A., & Bebko, J.M. (2018). Social support in post-secondary students with autism spectrum disorder. International Journal of Mental Health and Addiction, 17 (3), 573-584. doi: 10.1007/s11479-018-9972-y
Awards
2020 Werklund School of Education Early Career Research Award
2017-2021 Eyes High Doctoral Recruitment Scholarship (PhD Student: Jessica Baraskewich)
2015-2018 Alberta Health Innovates Solutions (AIHS) Postgraduate Fellowship
2012 Canadian Departments of Psychology (CCDP) – Certificate of Teaching Excellence Award
2011-2012 Ontario Graduate Scholarship (OGS)
2010-2011 Ontario Graduate Scholarship (OGS)
2009-2010 Ontario College of Graduate Students (OCGS) – Autism Scholar Doctoral Award
2007-2008 Social Sciences and Humanities Research Council of Canada (SSHRC) – Canadian Graduate Scholarship (CGS)