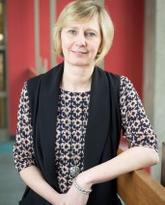 Catherine Burwell
Associate Professor
PhD - Media and Culture in Education
Ontario Institute for Studies in Education, University of Toronto
MA - Literature and Gender Studies
University of York (U.K.)
BEd - Secondary English Language Arts
University of Toronto
BA - English Literature
McGill University
Research and Scholarly Activity
Research areas
Media studies and literacy
Popular culture studies
Secondary English language arts curriculum and instruction
Cultural studies
Social justice and equity in education
Gender studies
Activities
Catherine Burwell's interdisciplinary research explores the pedagogical implications of youth digital culture. Her most recent work examines young people's shifting attitudes to copyright, and their influence on contemporary modes of cultural production. Dr. Burwell is also interested in emerging conceptualizations of media education, digital literacy and participatory culture. Her work has been published in education, cultural studies and communication journals.
Recent Projects:
Critical Media Literacy in a Post-truth Era (Principal Investigator). Funded by Alberta Advisory Committee for Educational Studies. 2018 - 2020.
Youth, Bytes, Copyright: Investigating Young Canadians' Encounters with Digital Copyright (Principal Investigator). Funded by SSHRC Insight Development Grant. 2014 - 2017.
Professional & Community Affiliations
Catherine sits on the editorial board of the Journal of Literacy Research and is Chair of the Advisory Board of the Canadian Association of Cultural Studies. She currently serves as the University Liaison for the English Language Arts Council, a specialist group within the Alberta Teachers' Association.
Catherine is also a member of the following associations:
Biography
Catherine Burwell worked as a secondary school English and Media Studies teacher with the Toronto District School Board for more than 10 years before undertaking a Ph.D. at the Ontario Institute for Studies in Education, University of Toronto. Her doctoral research examined young people's digital literacy practices. She has taught courses on popular culture, gender equity, and youth and globalization at Brock University and the University of Toronto. In 2011, she joined the Werklund School of Education at the University of Calgary.
Publications
Burwell, C. (2018). Youth, bytes, copyright: Talking to young Canadian creators about digital copyright. In R. Hobbs (Ed.), Routledge companion to media education, copyright and fair use (pp. 155-168).New York: Routledge.
Burwell, C. (2017). New(s) readers: Multimodal meaning-making in AJ+ captioned video. M/C: Journal of Media and Culture, 20(3).
Burwell, C. (2017). Game changers: Making new meanings and new media with videogames. English Journal, 106(6), 41-47.
Burwell, C & Miller, T. (2016). Let's play: Exploring literacy practices in an emerging videogame paratext. E-Learning and Digital Media, 13(3-4), 109-125.
Burwell, C. & Lenters, K. (2015). Word on the street: Investigating linguistic landscapes with urban Canadian youth. Pedagogies: An International Journal, 10(3), 201-221.
Burwell, C. (2015). You know you love me: Gossip Girl fan videos and the amplification of emotion. Feminist Media Studies, 15(2), 306-323.
Burwell, C. & Boler, M. (2014). Rethinking media activism through fan blogging. In M. Ratto & M. Boler (Eds.), DIY citizenship: Critical making and social media (pp.115-126). Cambridge, MA: MIT Press.
Burwell, C. (2014). Contestation in the Colbert Nation: Participants, producers and the struggle over digital dialogue. International Journal of Cultural Studies, 17(2), 143-158.
Burwell, C. (2014). A too-quick enthusiasm for the Other: North American women's book clubs and the politics of reading. In L. Taylor & J. Zine (Eds.), Muslim women, transnational feminism and the ethics of pedagogy (p. 133-151). New York: Routledge.
Burwell, C. (2013). The pedagogical potential of video remix: Critical conversations about culture, creativity, and copyright. Journal of Adolescent and Adult Literacy, 57(3), 205-213.
Burwell, C. (2012). Mixing it up: Bringing young people's digital creativity to class. Education Canada, 52(4), 23-26.
Burwell, C. (2010). Rewriting the script: Towards a politics of young people's digital media participation. The Review of Education, Pedagogy and Cultural Studies, 32(5), 382-402.
Burwell, C. & Boler, M. (2008). Calling on the Colbert Nation: Fandom, politics and parody in an age of media convergence. Electronic Journal of Communication, 18(2).
Burwell, C., Davis, H. & Taylor, L. (2008). Reading Nafisi in the West: Feminist reading practices and ethical concerns. Topia: Canadian Journal of Cultural Studies, 19, 63-84.
Burwell, C. (2007). Reading Lolita in times of war: Women's book clubs and the politics of reception. Intercultural Education, 18(4), 281-296.
Awards
University of Calgary Students' Union Teaching Excellence Award, 2018
University of Calgary Teaching Excellence Award, 2017
University of Calgary Students' Union Teaching Excellence Award (Honourable Mention), 2017
Werklund School of Education Leadership in Education Award, 2017
Werklund School of Education Teaching Excellence Award, 2014