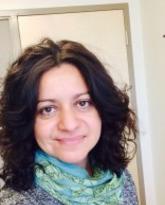 Gabriela Alonso Yanez
Assistant Professor
PhD - Curriculum Theory and Implementation
Simon Fraser University
MEd - Environmental Education
Instituto de Investigaciones Ecologicas, Malaga, Spain
BSc - Psychology (Honors)
Universidad Autonoma del Estado de Morelos
Research and Scholarly Activity
Research areas
Sustainability
Global environmental change
Complexity studies and education
Social networks
Qualitative research methods
Activities
Learning and education in the context of sustainability and global change are the focus of my work. Specifically, my research focuses on understanding the factors and conditions that influence how teams produce integrated, action-oriented socioecological knowledge in a rapidly changing world. I currently teach undergraduate and graduate courses in design thinking and project-based learning, interdisciplinary research, and formative assessment. Over the last 10 years, I have participated in several collaborative research projects with multiple aims, including: to build researchers' and organizations' capacity for collaboration; to engage stakeholders in co-designing and co-producing solutions-oriented knowledge; and to aid teams to develop networks of mutual learning.
Research Projects:
2018 - 2020 Incorporating Local and Traditional Knowledge Systems: New Insights for Ecosystem Services and Transdisciplinary Collaborations ((Inter-American Institute for Global Change Research).
2016 - 2017 Teamwork for Effective Research Action in the Americas (Inter-American Institute for Global Change Research).
2016 - 2018 - Pathways for Convergence and Cross-Sector Collaboration. This project focuses specifically on the role of grey literature in processes of knowledge integration and mutual learning in interdisciplinary collaborations and includes research partners from Canada, Uruguay, and Chile.
2015 - 2017 - Applying Social Network Analysis Techniques to Team-based Concept Study and STEM Professional Learning. This Research Collaboration Grant enables a team of researchers from Werklund and Mexico's- Universidad Pedagógica Nacional (UPN), to apply Social Network Analysis techniques to study collaboration and interactions within team-based concept study and STEM professional learning.
Professional & Community Affiliations
Biography
Dr. Alonso-Yanez completed her doctorate in Curriculum Theory and Implementation in the Faculty of Education at Simon Fraser University. Previous to beginning her doctoral studies in Canada, Dr. Alonso was Assistant Professor at the University of Morelos in Mexico where she taught and conducted research in the Faculty of Science and the Faculty of Psychology.
Publications
Alonso-Yanez, G., House-Peters, L., Garcia-Cartagena, M., Bonelli, S., Lorenzo-Arana, I., & Ohira, M. (2019). Mobilizing transdisciplinary collaborations: Collective reflections on decentering academia in knowledge production. Global Sustainability, 2, E5. doi:10.1017/sus.2019.2
Alonso-Yanez, G. Thumlert, K, de Castell S & Jenson J. (2019). Pathways to sustainable futures: A "Production Pedagogy" Model for STEM Education. Futures. Available online 19 February 2019. doi: 10.1016/j.futures.2019.02.021.
Pischke, E.C., A. Eastmond and G. Alonso-Yanez. (2019). Crossing Boundaries: Cross-national Research Questions and Teamwork. In A Research Agenda for Environmental Management. Edited by Kathleen E. Halvorsen, Chelsea Schelly, Robert Handler, Erin C. Pischke, Jessie L. Knowlton. Elgar.
Alonso-Yanez, G. (2018). Exploring Curriculum for Science Education: Lessons from a Mexican Biosphere Reserve. Journal of Education for Sustainable Development (11) 2, 89-101.
Alonso-Yanez, G., Brown, B., Friesen, S. & Jacobsen, Michele. (2016). Innovative Methods to Study School System Dynamics. In M. Takeuchi, A.P. Preciado Babb, & J. Lock. IDEAS 2016: Designing for Innovation Selected Proceedings. Paper presented at IDEAS 2016: Designing for Innovation, Calgary, Canada (pg. 12-21). Calgary, Canada: Werklund School of Education, University of Calgary.
Alonso-Yanez, G. Thumlert, K & de Castell S. (2016). Re-mapping Integrative Conservation: (Dis)Coordinate Participation in a Biosphere Reserve in Mexico. Conservation and Society, 14(2), 13-20.
Alonso-Yanez, G. & Davidsen, C. (2014). Conservation science policies versus scientific practice: Evidence from a Mexican biosphere reserve. Human Ecology Review, 20 (2), 3-29.
Alonso-Yanez, G. & Dhakal, S. P. (2009). Community partnership for ecotourism based on an environmental education program for sustainable development in Sierra de Huautla, México. Utopía y Praxis Latinoamericana, 14 (44), 117-124.