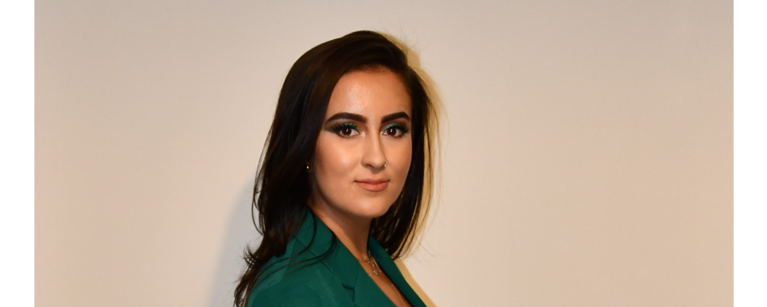 Najwa is from Guelph, Ontario and currently lives in Toronto. Her area of study before attending a graduate program at Werklund consisted of the Assaulted Women's and Children's Counsellor and Advocate Diploma and Instructing Adults Certificate from George Brown College.
Why did you choose to study at the Werklund School of Education?
In realizing my academic and professional goals, I chose to study at the Werklund School of Education because of its reputation and pathway option. The course offerings and the faculty's expertise have given me a knowledge base to expand my learning. Beyond the course offerings and faculty expertise, the University of Calgary and its Werklund School of Education were especially attractive because of the focus on personal wellness, social justice, and ecological sustainability. Also, the education provided enables graduate students' knowledge and skill development by creating adaptable adult learning communities.
How did you arrive at your thesis topic? What drew you to that particular area of focus? 
My greatest fulfillment comes from my commitment to lifelong learning and passion for education. I strive to be an agent of positive change. As a part-time entrepreneur, I offer customized educational solutions through personalized services and ready-made educational materials that combine adult instruction sensibility and technical skill with an aesthetic sense. Thus, in my specialization, I chose Leading and Learning in a Digital Age as my first topic and Collaborative Creativity for Social Innovation and Human-centred Design (now, Collaborative Creativity for Social Innovation and Strategic Design) as my second topic, as they complement each other. 
Specifically, as an individual living in Ontario, I was ecstatic when Collaborative Creativity for Social Innovation and Human-centred Design was offered fully online because it made it possible for me to select this great topic. Moreover, the research and experiential practice has enhanced my entrepreneurial initiative to affect educational change. 
Who is someone who had an important influence on your experience at Werklund? Tell us about their impact. 
As a student, I am motivated by being seen as a human first and then as a learner. The individual who had an important influence on my experience at Werklund is Robert Kelly. When a serious medical issue arose, Robert's understanding, compassion, and empathy successfully allowed me to complete the term.
Robert leads and teaches from his heart to support students' success, well-being, and growth. He creates a space for students to experiment educationally by recognizing and leveraging the power and potential of each individual.
What is the most important lesson you learned from your graduate studies experience? 
In Robert's words, "You are part of an ecosystem." The most important lesson I learned from my graduate studies experience is transitioning from an ego-centric to an eco-centric mindset through authentic and meaningful collaboration. Since the contemporary Global North is rooted in individualism and materialism, engaging in education that does not perpetuate the dominant norms has been nourishing; it dismantles growth-focused entrepreneurship and the design of products for consumption. 
Truthfully, I prefer completing learning tasks individually. However, Robert and Stephanie created a learning environment conducive to collaboration. My preference changed instantly, resulting in truly enjoying completing learning tasks collaboratively. The scaffolding was intentionally designed to increase each learner's collaboration capacity.
Where has your education from the Werklund School of Education taken you in your career?
Although I have not yet completed my education at the Werklund School of Education, it has supported my career. I am noticing increased job postings requiring collaboration, creativity, problem-solving, and innovation skills. These are skills that I am developing and enhancing in my Collaborative Creativity for Social Innovation and Human-centred Design topic. It has resulted in strengthening my job applications and job prospects.
Outside of Werklund, what are your favourite pastimes? Do you have any interesting hobbies or talents? 
Outside of Werklund, my favourite activity is to travel. I love traveling to be with the great outdoors rather than visiting human-created tourist attractions. The breathtaking beauty of Mother Earth is a personal sanctuary. 
What advice would you give to those about to begin their graduate studies journey? 
In Robert's words, "Find out what you are capable of." I would advise those who will begin their graduate studies journey soon to connect with their topics emotionally. When an emotional connection is present, the learning tasks become more than simply meeting course requirements. They become opportunities for deep learning to investigate your passion. 
What do you plan to do after you have completed your degree? How do you hope to make a positive impact in the community?
After I complete my degree, I plan to expand my entrepreneurial initiative by applying for grants towards start-up costs (e.g., software fees) and offering new services and ready-made educational materials. 
I hope to positively impact the community by putting education at the centre of social transformation and innovation. Education is often a site of harm and trauma for individuals (e.g., Residential Schools). I am committed to transforming these sites of practice to become more sustainable by stimulating empowerment, well-being, and happiness in learners. I build educational materials and experiences that empower and engage learners by valuing their diverse perspectives, strengths, intersectional identities, and agency. Additionally, I build educational material and experiences that challenge traditional hierarchies and power imbalances by prioritizing the well-being of learners. Moreover, I leverage consultants' expertise to build effective and equitable educational materials (e.g., lessons, courses, webinars, workshops, etc.). These consultants are engaged in transforming workplaces to become more accessible, inclusive, equitable, and diverse. The support I offer contributes to the consultants' projects to transform workplaces.
Please share any additional comments
I am confident this is the best graduate education I could have received; I truly made the best decision when choosing my program and topics!