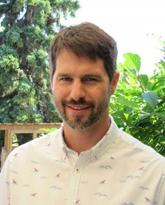 Gregory Lowan-Trudeau
Associate Professor
PhD - Educational Contexts (Focus: Intercultural Indigenous Environmental Education)
University of Calgary
MEd (Thesis) - Educational Studies (Focus: Land Based Indigenous Education )
Lakehead University
BEd (1st Class) - Environmental Science Education (OE3), Minor: Health and Physical Education
Lakehead University
BKin
University of Calgary
Research and Scholarly Activity
Research areas
Aboriginal education
Aboriginal/Non-Aboriginal Relations in Canada
Social justice pedagogy and education
Science education
Environmental education
Land-based education
Aboriginal peoples' health
Community activism
Critical media literacy
Critical discourse analysis
Activities
Dr. Lowan-Trudeau's research and teaching interests include Indigenous environmental education, health, justice, and activism; renewable energy development in Indigenous communities; Critical media literacy and engagement; Japanese ecological knowledge and philosophy; and critical, interpretive, and Indigenous research methodologies.
Current and Recently Completed Projects
Exploring Media Perspectives on Indigenous Environmental Issues in Canada and the United States: A Comparative Critical Discourse Analysis

Funding: Fulbright Canada Visiting Research Chair, University of California at Santa Barbara, 2019-20

Renewable Energy Education Reconsidered: Exploring Sociocritical and Indigenous Perspectives in Alberta and Beyond
Funding: SSHRC Insight Grant
Funding: SSHRC Insight Development Grant
Professional & Community Affiliations
Dr. Lowan-Trudeau offers his support formally and informally to a number of academic, professional, and community organizations. He regularly acts as a reviewer with a wide range of academic and professional journals, organizes and participates in conferences and community events, and partners with local educators and organizations in research and educational initiatives.
Biography
Gregory Lowan-Trudeau, PhD, is originally from Moh-kíns-tsis (Calgary) in the Treaty 7 region. He is of Métis, Norwegian, and Swiss descent with family roots across the prairies and eastern woodlands. Early childhood experiences on the land, encouraging role models, and exposure to cultural teachings inspired Dr. Lowan-Trudeau's interest in Indigenous science and environmental education. Previously a SSHRC and Killam doctoral scholar, he worked and studied with a variety of school, community, and land-based educational organizations across Canada and internationally prior to joining the Werklund School of Education. Dr. Lowan-Trudeau has also served as Contract Lecturer in the Faculty of Education at Lakehead University as well as Assistant and subsequently Adjunct Professor in the Department of First Nations Studies at the University of Northern British Columbia. He is currently an Editor of the Canadian Journal of Environmental Education.
Publications
Books and Special Journal Issues
Journal Articles and Book Chapters
Lowan-Trudeau, G. (2018). Indigenous methodologies revisited:Métissage, hybridity, and the Third Space in environmental studies. In B. Grimwood, K. Caton, L. Cooke (Eds.), New moral natures in tourism (pp. 181-193). New York: Routledge International.
Lowan-Trudeau, G. (2018). From reticence to resistance: Understanding educators' engagement with Indigenous environmental issues in Canada. Environmental Education Research. [Online First]
Lowan-Trudeau, G. (2017). Narrating a critical Indigenous pedagogy of place: A literary métissage. Educational Theory, 67(4), 509-525.
Lowan-Trudeau, G. (2017). Indigenous environmental education: The case of renewable energy projects. Educational Studies: A Journal of the American Educational Studies Association. 0(0), 1-13. [Online First]
Lowan-Trudeau, G. (2017). A rose by any other name: Repressive tolerance, burnout, and hope in the New West. Canadian Journal of Environmental Education, 21, 51-71.
Lowan-Trudeau, G. (2017). Gateway to understanding: Indigenous ecological activism and education in urban, rural, and remote contexts. Cultural Studies of Science Education, 12(1), 119-128. DOI: 10.1007/s11422-016-9746-4
Lowan-Trudeau, G. (2017). Protest as pedagogy: Exploring teaching and learning in Indigenous environmental movements. Journal of Environmental Education, 48(2), 96-108. http://dx.doi.org/10.1080/00958964.2016.1171197
Lowan-Trudeau, G. (2015). Teaching the tension: Indigenous land rights, activism, and education in Canada. Education Canada, 55(1), 44-47.
Lowan-Trudeau, G. (2014). Considering ecological métissage: To blend or not to blend? Journal of Experiential Education, 37(4), 351-366 [originally published online first Dec. 18, 2013].
Lowan-Trudeau, G. (2013). Indigenous environmental education research in North America: A brief review. In R. Stevenson, M. Brody, J. Dillon & A.E.J. Wals (Eds.), International Handbook of Environmental Education Research (pp. 404-408). New York: Routledge & The American Educational Research Association.
Lowan, G. (2012). Expanding the conversation: Further explorations into Indigenous environmental science education theory, research, and practice. Cultural Studies in Science Education, 7, 71-81.
Lowan-Trudeau, G. (2012). Methodological métissage: An interpretive Indigenous approach to environmental education research. Canadian Journal of Environmental Education, 17, 113-130.
Awards
2010 Killam Pre-Doctoral Fellowship (2 years)
2008 University of Calgary Dean's Research Excellence Award (2 years)
2008 SSHRC Doctoral Fellowship (4 years)
2008 University of Calgary Queen Elizabeth II Doctoral Scholarship (Hon.)
2007 SSHRC Master's Scholarship