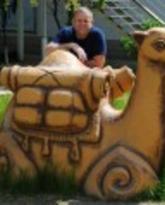 Gregory Tweedie
Associate Professor
PhD
University of Southern Queensland
Research and Scholarly Activity
Research areas
Applied linguistics
Bilingual/second language education
Comparative and international education
Dialects in education
Dialects in language planning
English as a Lingua franca in health care
English as an additional/global language
Language assessment
Preparing teachers for ELLs
Second language teaching and learning
Activities
Dr. Gregory Tweedie's research program, in the field of applied linguistics, focuses on the phenomena of the English language as communicative vehicle in international professional contexts, for people from differing first language (L1) backgrounds.
Current Projects:
Accelerating Language Acquisition for ELL Jr. High Students – Alberta Education Research Partnerships Program
EFL (mis)communication in the Nursing Simulation Lab – Research Across Borders
When Families Reconnect – Alberta Education Research Partnerships Program
Professional & Community Affiliations
Dr. Gregory Tweedie holds a secondary school teaching qualification from the Queensland College of Teachers.
Biography
Dr. Gregory Tweedie holds a PhD in Education (Applied Linguistics focus) from the University of Southern Queensland. His teaching and research draw heavily upon his experiences as a language teacher and language teacher trainer in East, Southeast and Central Asia, the Middle East, Canada, and his native Australia.
Publications
Tweedie, M. G. & Johnson, R. (2018). Listening instruction: Exploring nursing education where English is a lingua franca. In J. Siegel, & A. Burns (Eds.), International perspectives on teaching the four skills in ELT (pp. 65-77).
London: Palgrave. doi: 10.1007/978-3-319-63444-9_5
Tweedie, M. G. & Johnson, R. (2018) Listening instruction and patient safety: Exploring medical English as a lingua franca (MELF) for nursing education. Journal of Belonging, Identity, Language, and Diversity, 2(1),1-27.
http://bild-lida.ca/journal/volume_2_1_2018/tweedie_johnson/
Tweedie, M. G. & Dressler, R. (2018). Visual aids as response facilitators in dialogue journals. Language & Literacy, 20(2), 125-143.
https://journals.library.ualberta.ca/langandlit/index.php/langandlit/issue/view/1943
Tweedie, M.G. & Chu, M-W. (2017). Challenging equivalency in measures of English language proficiency for university admission: Data from an undergraduate engineering program. Studies in Higher Education.
doi: 10.1080/03075079.2017.1395008
Johnson, R. and Tweedie, M.G. (2010). Could phonemic awareness instruction be (part of) the answer for young ELF learners? A report on the early literacy project in Malaysia. TESOL
Quarterly, 44(4), 822-829. doi: 10.5054/tq.2010.238131.