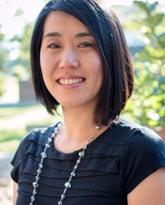 Kaori Wada
Assistant Professor
PhD - Counselling Psychology
McGill University
MA - Counselling Psychology
McGill University
BA - Human Relations & Psychology (Minor)
Concordia
Research and Scholarly Activity
Research areas
Bereavement & grief
Feminist theory/research
Social justice
Multicultural transitions & cross-cultural counselling
Qualitative research
Globalization
International students
Career counselling
Activities
Dr. Wada is a multicultural, feminist, social justice researcher. She has a particular passion in research that is international and interdisciplinary in nature. Specifically, she has two streams of research interests––cross-cultural adjustment and thanatology (i.e., the study of death, dying, and bereavement) with culture as an overarching theme. Topics from her previous scholarly work include: the experiences of Japanese women who have returned to Japan after having studied in North America; immigrant and international students' cross-cultural adjustment; a theoretical integration of grief theories and the principles of Buddhist psychology; death education in Japan and Canada. Dr. Wada's current program of research will examine the cultural difference in the boundary between normal and pathological grief.
Graduate Supervision: Dr. Wada currently has very limited space for graduate supervision. She will only consider candidates with strong interests in the area of grief and bereavement.
Current Projects:
Centering student learning in social pedagogy in Canadian Counselling Psychology. University of Calgary Scholarship of Teaching and Learning Grant ($39,950, Co-PI)
The cultural shaping of normal and pathological grief (Principle Investigator). Eyes High International Collaborative Grant for New Researcher, University of Calgary ($12,500, PI), and International Research Seed Grant, Werklund School of Education ($10,000)
Intersectionality and international students: A scoping review of couselling psychology literature (Principle Investigator). Research Collaboration Grant, Werklund School of Education ($5000, PI)
Ritsumeikan Global Innovation Research Organization Grant (5,000,000 yen; approximately CAD$ 56,000), International Researcher
Professional & Community Affiliations
Dr. Wada was a member of the Ad-hoc Committee on Ethics Review (2011-2012) within the Counselling Psychology Section of the Canadian Psychological Association. Additionally, she was on the conference planning committee for the 2011 Inaugural Canadian Counselling Psychology Conference in Montreal. Internationally, Dr. Wada has been involved with several committees within Division 17 of the American Psychological Association and Association of Death Education and Counselling. Most recently, she was recognized as one of 40 Emerging Psychologists at the 2016 International Congress of Psychology, Yokohama, Japan. Dr. Wada is currently serving as a organizational commitee member for the 2018 Counselling Canadian Psychology Conference, to be held in Octorber 2018
Biography
Born and raised in Japan, Dr. Wada first came to Canada as an international student. She received her BA in Human Relations from Concordia University. She went on to pursue MA and PhD in Counselling Psychology at McGill University, where she gained clinical experience at a high school, university counselling/mental health services, and community and hospital outpatient clinics. She also taught both undergraduate and graduate courses as a part-time instructor at Concordia and McGill. In 2016, she joined Werklund School of Education at the University of Calgary, where she teaches graduate courses on career counselling, professional ethics, and assessment.
Publications
Peer Reviewed Journal Articles
Wada, K., McGroarty, E. J., Tomaro, J., & Amundsen-Dainow, E. (2019). Affirmative career counseling with transgender and gender non-conforming clients: A social justice perspective. Canadian Journal of Counselling and Psychotherapy, 53, 255-275.
Didehvar, M. & Wada, K. (In Press). The relationships between identity styles and career indecision among Iranian female adolescents. Emerging perspectives.
Sasaki, J., Wada, K., & Tanno, Y. (2013). Understanding egorrhea from cultural-clinical psychology. Frontiers in Psychology, 894. doi: 10.3389/fpsyg.2013.00894
Park-Saltzman, J., Wada, K., & Mogami, T. (2012). Mentoring Asian international mentees in Counseling Psychology programs. The Counseling Psychologist, 40, 895-915. doi:10.1177/0011000011429831
Sinacore, A.L., Park-Saltzman, J., Mikhail, A. & Wada, K. (2011). Falling through the cracks: Academic and career challenges faced by immigrant graduate students in Canada. Canadian Journal of Counselling and Psychotherapy, 45, 168-187.
Wada, K., & Park, J. (2009). Integration of Buddhist psychology into grief counseling. Death Studies, 33(7), 657-683. 10.1080/07481180903012006
Wada, K. (2009). Kanada deno death education to thanatology [Thanatology and death education in Canada: A practice report], Gendai no Espuri [Contemporary Perspectives] (Japanese), 499, 53-62.
Technical Reports
Sinacore, A. L., Van Vliet, K. J. & Wada, K. (2012, July) Report of Section for Counselling Psychology Ad Hoc Committee to review the 2000 (Third Edition), Canadian Code of Ethics for Psychologists.
Invited Presentations
Wada, K. (2017, September). Spiritual care in contemporary psychology in North America and surround factors. In S. Shimazono (Chair), Contemporary developments of spiritual care. Invited symposium conducted at the Institute of Grief Care, Sophia University, Tokyo.
Wada, K. (2016, July). The interplay between sociocultural factors and psychological processes in cross-cultural transitioning. In. Wada, H. (Chair), Dynamics of adaptive changes in individual life and community life: Toward successful adaptation. Invited symposium conducted at the 31st International Congress of Psychology, Yokohama, Japan.
Doctoral Dissertation
Wada, K (2016). Japanese women's reentry to Japan after studying in North America: A narrative inquiry. Unpublished doctoral dissertation. McGill University, Montreal, QC. (Supervisor: Ada L. Sinacore, Ph.D.) *Won the Counselling Psychology Section Best Doctoral Dissertation Award (Canadian Psychological Association) as well as departmental nomination for the 2016 Prix d'excellence de l'Association des doyens des études supérieures au Québec.
Awards
2017 Counselling Psychology Section Best Doctoral Dissertation Award, Canadian Psychological Association
2016 Emerging Psychologist, International Congress of Psychology
2011 Spirit of Giving Award, Concordia Council of Student Life, Concordia University
2010 Division 17/Section for the Advancement of Women Dissertation and Thesis Award, American Psychological Association
2010 Margaret Gillett Graduate Research Award, Institute for Gender, Sexuality, and Feminist Studies, McGill University
2008-2011 Fonds québécois de la recherche sur la société et la culture Bourse de doctorat en recherché (Awarded $60,000: Accepted $20,000)
2008-2010 Social Science and Humanities Research Council of Canada Doctoral Fellowship
2006-2007 Max Stern Recruitment Fellowship, McGill University
2006-2007 Recruitment Excellence Fellowship, McGill University
2004 A. Ross Seaman Leadership Memorial Award, Concordia University
2002-04, 07 Student Initiative Conference Scholarship, Association for Death Education and Counseling