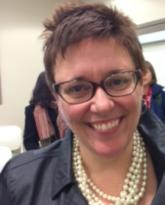 Katherine Mueller
Sessional Instructor
PhD
University of Calgary, 2015
BEd
University of Calgary, 1990
MA - French
University of Calgary, 1985
BA (Honours)
Queen's University, 1983
Research and Scholarly Activity
Research areas
French immersion schools
Pedagogy
Practicum
Second language acquisition (SLA)
Second language teaching and learning
Teacher education
Teaching and learning methods
Pre-service teachers
Activities
Research interests include French Immersion and Second Language pedagogy and the implementation of the Neurolinguistic Approach in the Intensive French program, as well as the experiences of pre-service teachers.
Current Projects:
Investigating Intensive French in Calgary, Language Research Centre (UofC) and Calgary Board of Education, 2012-2018.
Professional & Community Affiliations
Member Canadian Association of Second Language Teachers (CASLT), Association canadienne des professionels d'immersion (ACPI)
Biography
Dr. Mueller studied French at Queen's University in Kingston, Ontario, and then completed a Master's in French Language and a BEd with a Specialization in Secondary French at the University of Calgary. Following a teaching career at the Calgary Board of Education, Dr. Mueller taught French in the Faculty of Arts at the University of Calgary. Since completing her Doctorate in French Pedagogy at the University of Calgary, Dr. Mueller has been teaching in Undergraduate and Graduate Programs at the Werklund School of Education. She is the co-author of a textbook for beginner-level University French (Chez nous: branché sur le monde francophone 3rd Canadian edition 2014, Toronto: Pearson Education). She presents frequently at conferences and for teacher organizations and school divisions, and to French Immersion parents on behalf of Canadian Parents for French. She is a member of the Teaching Academy, Taylor Institute of Teaching and Learning, University of Calgary.
Publications
Burns, A., Brown, B., Eaton, S. E., & Mueller, K. (Forthcoming). A day in the life: An examination of women's choices in the academy. Journal of Educational Thought.
Mueller, K. & Roy, S. (2015). Écrire en collaboration: Avantageux ou pas? (ACPI) Le journal de l'immersion, 37, 2 (Été 2015), 36-39.
Valdman, A., Mueller, Katherine et al (2014). Chez nous: branché sur le monde francophone, 3rd Canadian edition. Toronto: Pearson Educational Publishers. (1st Canadian edition 2005, 2nd Canadian edition 2010).
Mueller, Katherine (2010). Rethinking the Focus on Grammar in Canada's Immersion Program. In S. Roy & C. Berlinguette (Eds.), Emerging Social and Language Issues in Canada: Identity, Diversity and Teaching Practices, pp. 59-71. University of Calgary: Faculty of Education.
JOURNAL ARTICLES - NON-PEER REVIEWED
Awards
University of Calgary Teaching Excellence Award, Sessional Instructor, 2017
University of Calgary Student Union Teaching Excellence Award Honourable Mention (Education) 2015-2016
University of Calgary Student Union Teaching Excellence Award (Education) 2014-2015
University of Calgary Student Union Teaching Excellence Award (Education) Nomination 2017-2018
SSHRC Doctoral Scholarship 2010
Queen Elizabeth II Doctoral Scholarship 2009-2012