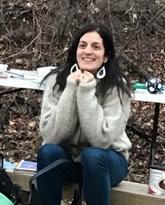 Mairi McDermott
Assistant Professor
Doctor of Philosophy
University of Toronto/Ontario Institute for Studies in Education
Master of Science of Teaching
Pace University
Bachelor of Arts
McGill University
Research and Scholarly Activities
Research areas
Anti-oppression education
Cultural studies
Feminist theory/research
Literacy education
Pedagogy Affect in
Qualitative research
Sociology of education
Poststructural feminism in education
Affect in education
Student voice
Activities
Dr. McDermott's research is interdisciplinary while grounded in sociology of education with a poststructural feminist orientation to literacy. She is interested in student voice as a possibility for bridging the contemporary spaces between in school and out of school literacy practices of diverse urban youth. Her work concerns what voicings and identities are made possible through one's pedagogy, as pedagogy comes to be informed through our personal and collective histories and experiences. Presently, she is interested in the discursive and embodied relationships between student voice, affect, and literacy.
Current Projects:
Factors Contributing to the Success of Indigensous Students in Pre-Service and In-Service Teacher Education (PI)
Citizenship and the Education of African-Canadian Youth: A Qualitative Case Study
Affect, Embodiment, and Place in Critical Literacy: Assembling Theory and Practice
Action Research for Ongoing Improvements in the Masters of Education Program
The Role Schools Play Concerning Well-Being of Educators
Biography
Mairi McDermott holds a PhD in Sociology of Education from the Department of Social Justice Education at OISE, University of Toronto. Dr. McDermott is presently an Assistant Professor in Curriculum and Learning at the Werklund School of Education, University of Calgary. Her research addresses the ways mediated classroom relationships shape issues of representation, voice, desire, and affect. Specifically, her dissertation queried what voicings were made possible through student voice pedagogies as they become personally, socially, and institutionally contoured. Dr. McDermott's cultural and pedagogical work is inspired by her experiences as a New York City public school English language arts teacher.
Professional & Community Affiliations
Canadian Society for the Studies of Education (CSSE) – member
Literacy Research Association (LRA) – member
National Women's Study Association (NWSA) – member
Publications
Dei, G. J. S. & McDermott, M. (Eds.) (in press). Teaching African proverbs in Canadian schools: Anti-racism lesson plans and curriculum units for social justice education. Toronto, ON: Canadian Scholars Press
Jacobsen, M., Eaton, S., Brown, B., Simmons, M., and McDermott, M. (2018). Action research for graduate program improvements: A response to curriculum mapping and review. Canadian Journal of Higher Education, 48(1), 82-98. Online: http://journals.sfu.ca/cjhe/index.php/cjhe/article/view/188048
Jackson, Y., McDermott, V., Simmons, M., & McDermott, M. (2015). Creating a culture of confidence: Re-Conceptualizing urban educational leadership. In M. Khalifa, C. Grant, & N. Witherspoon (Eds.). Handbook of urban educational leadership (pp. 62-70). New York: Rowman and Littlefield Publishing Group.
Dei, G. J. S. & McDermott, M. (Eds.) (2014). Politics of anti-racism education: In search of strategies for transformative learning. New York: Springer.
McDermott, M. (2014). Mo(ve)ments of affect: Towards an embodied pedagogy for anti-racism education. In Dei, G. J. S. & McDermott, M. (Eds.). Politics of anti-racism education: In search of strategies for transformative learning (pp. 211-226). New York: Springer.
McDermott, M. & Simmons, M. (2013). Embodiment and the Spatialization of Race. In Dei, G. J. S. & Lordan, M. Contemporary Issues in the Sociology of Race and Ethnicity: A critical reader (pp. 153-168). New York: Peter Lang.
McDermott, M. & Madan, A. (2012). Avoiding the missionary (dis)position: Research relations and (re)presentation. In Cannella, G. S. & S. R. Steinberg (Eds.) Critical qualitative research reader (pp. 235-245). New York: Peter Lang.
McDermott, M (2011). The pedagogy of uncertainty: Paths to personally meaningful homework. ASCD Express 6(25)