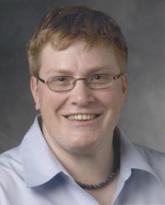 Maren Aukerman
Associate Professor
Ph.D., Language, Literacy, and Culture
University of California, Berkeley
M.A., Advanced Reading and Language Leadership Program
University of California, Berkeley
B.A., Religion
Williams College
Research and scholarly activity
Research areas
Bilingual/second language education
Children's literature
Discourse analysis
Children's sensemaking
Early childhood education
Elementary education
Literacy
Multimodal literacies
Pedagogy
Professional development
Qualitative research
Reading and writing
Social justice pedagogy and research
Student voice
Teacher education
Activities
Dr. Aukerman's research focuses on the relationship between talk, child agency, and literacy learning among children/youth and their teachers. She is particularly interested in how teachers engage with children's non-standard interpretations of text, and how children's meaning-making can become more honored and valued as a resource within classrooms. Dr. Aukerman's additional areas of inquiry include sociocultural conceptualizations of reading comprehension; how second-language learners make sense of text through classroom dialogue; the affordances of various genres and modes for shared textual inquiry by child and adolescent readers; and documenting change over time in children's participation in classroom talk about text.
Current Projects:
Dialogic pedagogy and social justice: Perspectives of preservice teachers (principal investigator)
Trust and languaging among high school seniors (co-investigator, with Richard Beach)
Dialogue and children's perspectives across time and context
Media Work
Seek to Understand: Respectful and Dialogic Teaching. Founder and administrator of Facebook group on respectful teaching. https://www.facebook.com/groups/1699121830362630
Voice of Literacy Podcast (2016) http://www.voiceofliteracy.org/posts/64664
Biography
Already known to teachers at the high school she attended for raising questions about prevailing educational practices, Maren Aukerman began her formal career in education as a bilingual Spanish/English teacher in Arizona, where she taught immigrant children in elementary and middle school. After finishing her Ph.D. at U.C. Berkeley, she taught, advised doctoral students, and conducted a program of research at the University of Pennsylvania and at Stanford University before joining the faculty at the University of Calgary in 2017. Dr. Aukerman's teaching interests include literacy, classroom discourse, qualitative research methods, and re-envisioning teaching to better serve children and democracy.
Professional and Community Affiliations
Maren Aukerman sits on the editorial review board of Reading Research Quarterly, Research in the Teaching of English, the Journal of Literacy Research, the Journal of Children's Literature, and Language Arts. She has served as a reviewer for the Spencer Foundation (Large and Small Grants divisions), and recently served on the National Council for Teachers of English Alan Purves Award Committee. Dr. Aukerman relishes collaborative work with teachers, and has facilitated professional development projects in early literacy, adolescent literacy, and disciplinary literacy (e.g., reading in math and science).
Literacy Research Association, http://www.literacyresearchassociation.org/
International Literacy Association, https://www.literacyworldwide.org/
American Educational Research Association, http://www.aera.net/
Publications
Aukerman, M., Chambers Schuldt, L., Aiello, L., & Martin, P. (2017). What meaning-making means among us: The textual intercomprehending of emergent bilinguals in small-group text discussions. Harvard Educational Review. 87(4), 482-511.
Aukerman, M. & Chambers Schuldt, L. (2017). Bucking the authoritative script of a mandated curriculum. Curriculum Inquiry. 47(4), 411-437.
Aukerman, M., Johnson, E. M. & Chambers Schuldt, L. (2017). The relationship between student and teacher discourse practices in monologically and dialogically organized text discussion. Journal of Language and Literacy Education. 13(2), 1-52.
Aukerman, M., Chambers Schuldt, L. (2016). "The pictures can say more things": Change across time in young children's reference to images and words during text discussion. Reading Research Quarterly, 51(3), 267–287.
Aukerman, M., Martin, P. C., Gargani, J. & McCallum, R. D. (2016). A randomized control trial of shared evaluation pedagogy: The near-term and long-term impact of dialogically organized reading instruction. L1-Educational Studies in Language and Literature, vol. 16, 1-26.
Aukerman, M., & Chambers Schuldt, L. (2015). Children's perceptions of their reading ability and epistemic roles in monologically and dialogically organized bilingual classrooms. Journal of Literacy Research, 47(1), 115-145.
Awards
Stanford Graduate School of Education Faculty Teaching Award, 2013, 2017.
Albert J. Harris Award, 2009. International Reading Association award for "journal article or monograph that makes an outstanding contribution to our understanding of the prevention or assessment of reading or learning disabilities."
National Academy of Education/Spencer Post-Doctoral Fellowship, 2008.
Phi Beta Kappa Dissertation Fellowship, 2003.
Spencer Research Training Fellowship, 2003.