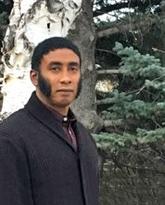 Marlon Simmons
Associate Dean, Graduate Programs
Associate Professor
PhD
University of Toronto
MEd
University of Toronto
HBA
University of Toronto
Research and teaching
Research areas
Sociology of education
Qualitative research
Discourse analysis
Diaspora and cultural studies
Decolonial Thought
Activities
The research interests of Marlon Simmons include Diaspora and culture, decolonial thought, governance of the self and communicative network practices of youth. Related to Marlon's work are the scholarship of teaching and learning and the role of sociomaterial relations with enhancing student learning.
Biography
Marlon Simmons is an Associate Professor at the Werklund School of Education. He received his PhD in Sociology of Education, from the University of Toronto. Marlon joined the Werklund School of Education as an Eyes High Postdoctoral Scholar and is currently a member in the Educational Leadership, Policy and Governance program.
Publications
Jacobsen, M., Eaton, S., Brown, B., Simmons, M., and McDermott, M. (2018). Action research for graduate program improvements: A response to curriculum mapping and review. Canadian Journal of Higher Education, 48(1), 82-98.
Dei, G. J. S., & Simmons, M. (2016). Citizenship education and Embodied ways of knowing: What can be learned from the voices of Ghanaian youth in schooling and education? Journal of Global Citizenship & Equity Education. 5(1), 1-20.
Simmons, M. (2016). Diaspora, Citizenry and the Education of African-Canadian Youth. In A. Abdi & A. Ibrahim (Eds.). The Education of African-Canadian Children: Critical Perspectives (pp-58-72). Kingston: McGill-Queen's University Press.
Jackson, Y., McDermott, V., Simmons, M., & McDermott, M. (2015). Critical Pedagogy and Fearless Leadership: Uncovering Cultures of Confidence in Urban Education. In M. Khalifa, C. Grant, & N. Witherspoon (Eds.). Handbook of Urban Education Leadership (pp. 62-70). New York: Rowman and Littlefield Publishing Group.
Simmons, M. (2014). Politics of Urban-Diasporized Youth and Possibilities for Belonging. In A. Ibrahim & S. Steinberg (Eds.). Critical Youth Studies Reader (pp. 195-204). New York: Peter Lang.