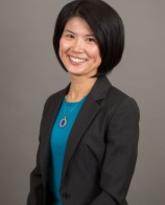 Miwa Aoki Takeuchi
Associate Professor
PhD
Ontario Institute for Studies in Education, University of Toronto
MA
Ontario Institute for Studies in Education, University of Toronto
BSc - Education
Hokkaido University, Japan
Research and Scholarly Activity
Research areas
Discourse analysis
Early mathematics development
Language and the construction of meaning
Learning environments
Learning sciences
Mathematics education
Social justice and equity in education
Student experience and identity in relation to mathematics
Activities
Dr. Miwa Aoki Takeuchi's research projects are centered around equity and social justice in mathematics education. Working collaboratively with teachers, community activists, and families, Dr. Takeuchi aims to co-design the learning environments that can leverage learners' embodied experiences into mathematics learning. To challenge the deficit perspectives imposed on historically marginalized learners, Dr. Takeuchi employs various research tools to carefully listen to learners' silenced voices and subjugated knowledge. Through her research activities, Dr. Takeuchi hopes to shine light on traditionally unseen and hidden knowledge of mathematics shared by immigrant and refugee learners and their families.
Ongoing Project:
Envisioning inclusive mathematics education with digital illustrated stories (SSHRC Insight Grant, 2020-current, PI)
This project will demonstrate how digital illustrated stories can unveil traditionally unseen mathematics knowledge and history and how these stories can serve as a catalyst to envision open and inclusive spaces and practices in mathematics education.
Mobilizing Immigrant and Refugee Families' Funds of Knowledge Toward Food/Environmental Justice (sponsored by the STEM equity and diversity grant, 2019-current, PI)
This study shines a light on intergenerational knowledge of Science, Technology, Engineering and Mathematics (STEM) exhibited by immigrant and refugee families in the context of community gardening and urban farming and toward food/environmental justice.
Biography
Dr. Miwa Aoki Takeuchi completed her PhD in the Department of Curriculum, Teaching and Learning at the Ontario Institute for Studies in Education of the University of Toronto. Previously, she worked as a research fellow with the Japan Society for the Promotion of Science. Dr. Takeuchi is part of the Educational Studies in Learning Sciences, Werklund School of Education at the University of Calgary. At the graduate education level, she teaches specialization courses in the Learning Sciences and Mathematics Education and research methodology courses (including Ethnographic Research Approach). At the undergraduate education level, she teaches STEM education, Early Childhood Education Specialization, and Diversity in Learning.
Publications
For the list of all of my recent publications (and full texts): https://miwatakeuchi.com/
Publications with Teachers
Jaques, S., Kim, B., Shyleyko-Kostas, A., & Takeuchi, M.A. (2019). "I just won against myself!": Fostering early numeracy through boardgame play and redesign. Early Childhood Education, 46(1). 22-29. Full text available here
Takeuchi, M., & Coyle, R. (2015). Learning elapsed time through afterschool activities. Ontario Mathematics Gazette, 54 (2), 9–13. Full text available here
Awards
Werklund Teaching Excellence Award
Research Fellowship – Japan Society for the Promotion of Science
Mary Stager Graduate Student Award – OISE/University of Toronto
Government of Canada Award – Canadian Government
Research Grants (External)
2020-ongoing Insight Grant, Social Sciences and Humanities Research Council of Canada (PI)
2017-2019 Research Partnership Program, Alberta Education (Co-PI)
2017-2018 Research Partnership Program, Alberta Education (Co-PI)
2015-2018 Insight Development Grant, Social Sciences and Humanities Research Council of Canada (PI)
2012-2014 Grants-in-Aid for Scientific Research, Japan Society for the Promotion of Science (PI)