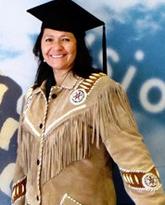 Phyllis Steeves
Assistant Professor
PhD - Department of Educational Policy Studies
University of Alberta
Master in Philosophy - International Peace Studies
Trinity College University of Dublin
Adult Continuing Education Certificate (Distinction)
University of Alberta (Faculty of Extension)
Voluntary Sector Management Program (with Distinction)
MacEwan University
Research and Scholarly Activity
Research areas
Literacy
Aboriginal education
Aboriginal peoples' health
Cross-cultural transitions
Homelessness
Gender alliances
Activities
Dr. Steeves' research interests focus primarily on factors impacting the well-being of Indigenous Peoples, particularly in educational contexts. Primary research interests include expansion of the concept of literacy and its real and potential impacts on Indigenous peoples (e.g., the concept of 'Aboriginal literacy') and ways theory, policy and practice interact to impact on the well-being of Indigenous peoples (e.g., how, or do, policies and practices align with pedagogical theories targeting education of Indigenous peoples). Awareness of variances in cultural perspectives among and between those with vested interests informs her work as does an interest in ethics and community based research.
Current Projects:
Professional & Community Affiliations
Dr. Steeves' professional contributions incorporate teaching and consultation in a range of education and health related contexts, including over a decade's service in the non-profit sector in the field of literacy education. Recognizing the importance of engaging with a range of public and private sectors Dr. Steeves serves on numerous institutional and community based boards and committees. Please see Dr. Steeves' CV for a selected list.
Biography
Dr. Phyllis Grace Steeves, is a Cree Métis woman with strong roots in the community of Lac. Ste. Anne, Alberta, Canada. An 'urban Aboriginal,' she was born and raised in Edmonton, Alberta. Dr. Steeves has a keen appreciation for life's training, be it through day to day living, the "school of hard knocks" or formal channels. All avenues have impacted on her work and her philosophies.
Publications
Steeves, P. G. (2010). Literacy: Genocide's silken instrument. Doctoral dissertation. Edmonton, AB: University of Alberta.
Steeves, P. G. (2009). Foreword: Working with Indigenous families. In Foundations in family literacy. Edmonton, AB: Centre for Family Literacy.
Steeves, P. (2008). Policy and administration for non-profits. In L. Rouleau. (Ed.). Pathways: Professional development for adult literacy practitioners. Cycle 1.Edmonton, AB: Literacy Alberta & University of Alberta.
Steeves, P. G. (Ed.). (2010). CIHR Institute of Aboriginal Peoples' Health Newsletter. Spring 2010. Edmonton: Institute of Aboriginal Peoples' Health.
Atkinson, T. Steeves, P. G. (Eds.). (2009). Literacies: Researching Practice, Practising Research. 10(Spring 2009).
Awards
2011. ARTS Graduate Research Award (Outstanding dissertation). Arts Researchers and Teachers Society, Canadian Association for Curriculum Studies, Canadian Society for the Study of Education
2011. Phi Delta Kappa / Faculty of Education Doctoral Dissertation Award. Phi Delta Kappa / University of Alberta
2011. Esquao Award (Recognition of achievements in the area of education). Institute for the Advancement of Aboriginal Women
2009. Queen Elizabeth II Graduate Scholarship: Doctoral. University of Alberta
2007. City of Edmonton Graduate Fellowship Award. City of Edmonton