Partner Teachers: Professional Learning Series
Registration open for the January 26th event
Supporting Students' Meaningful Active Learning of Mathematics 
Date: Wednesday, January 26
Time: 4:30 - 5:30 pm
Platform: Zoom
Meaningful teaching of mathematics includes providing students with opportunities to make connections and think mathematically. In this session, we will discuss learner-centered approaches to actively and meaningfully engage all students at the beginning of a mathematics lesson. These approaches prepare students for the lesson as well as help them to develop skills to learn mathematics with understanding and experience.
Theme: Math Engagement
Presenters: Olive Chapman
Interactivity: Participants will engage in discussion of examples of the activities that can be adapted for grades K-12 and in creating their own examples for use in their classrooms. 
Resource Sharing: Examples of the activities will be shared during the session. 
Register now:
Thanks! You'll get a confirmation email shortly.
Collection of personal information
Your personal information is collected under the authority of section 33(c) of the Freedom of Information and Protection of Privacy Act, and is required for updating your email subscription preferences. If you have any questions about the collection or use of this information, please contact the Office of Advancement at digital@ucalgary.ca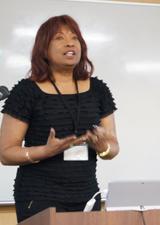 Dr. Olive Chapman
Dr. Chapman is Professor of mathematics education in the Werklund School of Education. She teaches mathematics education courses at the undergraduate and graduate levels and supervises graduate students in mathematics education. Olive completed her MSc in Mathematics and PhD in Mathematics Education at the University of Toronto. She taught post-secondary mathematics and physics before joining the Werklund School as a specialist in mathematics education.
Upcoming Schedule
These professional learning sessions will be facilitated by Werklund Instructors to support knowledge sharing in targeted areas. Themes include: Indigenous education, math engagement, literacy development and wellness.
Sessions will begin at 4:30pm (MT) and run for one hour.
Registration will open two-three weeks prior to the date of the event. 
Mar 9
Comics in the Classroom: Expanding Literacy Horizons 
Viewing and representing are important aspects of literacy learning, yet they are frequently overshadowed by the emphasis on reading and writing. In this workshop, we draw on the popularity and pedagogical potential of comics, graphic novels and illustrated books to explore the place of viewing and representing across the curriculum. We will discuss how visual literacies can increase engagement and authenticity, and complement more conventional literacy learning. 
Theme: Literacy Development 
Presenters: Kim Lenters and Catherine Burwell 
Interactivity: Attendees will participate in hands-on activities related to both the reading and creation of comics. These activities can be easily adapted for a variety of k-12 classrooms. 
Resource Sharing: Attendees will be introduced to comics and other visual resources with the potential to enhance literacy learning across the curriculum. 
May 4
Cultivating Teacher Wellbeing Through Mindfulness Practices 
Mindfulness practices can significantly enhance our ability to cope with stress and decrease our reactivity in stressful situations. In this workshop, participants will be introduced to contemporary research on mindfulness and wellbeing. In particular, we will explore research that has demonstrates that focusing on teacher wellbeing can significantly enhance the learning environment for children. 
Theme: Wellness
Presenters: Jackie Seidel and Janet Groen 
Interactivity: Simple practices focused on mindfulness and stress reduction will be integrated into this workshop format. 
Resource Sharing: Examples of mindfulness activities, in relation to personal teacher wellbeing, as well as links to mindfulness resources, will be shared.