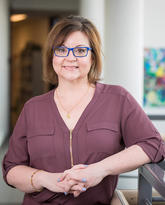 Shelly Russell-Mayhew
Professor
PhD - Counselling Psychology
University of Calgary
MSc - Counselling Psychology
University of Calgary
BSc - Psychology (Honors)
Research and Scholarly Activity
Research areas
Body image
Collaborative, school-based research
Counselling and health issues
Eating disorders
Obesity
School-based prevention programs
Mental health and well-being
Risk and protective factors
Developmental wellness and resiliency
Weight bias
Activities
Body Image Research Lab
Dr. Russell-Mayhew's Body Image Research Lab is unique in the field of education and increasingly influential amongst colleagues. Modelled on science and medicine labs, Russell-Mayhew uses a nested model of supervision where post-docs contribute to the supervision of doctoral students who in turn contribute to the supervision of master's students. This creates dozens of collaborative and interdisciplinary teams working together to advance knowledge and impact. Dr. Russell-Mayhew is a nationally recognized supervisor (UCalgary Graduate Research Supervision Award 2018 and Canadian Psychological Association Feminist Mentor Award 2018), having supervised to completion 47 graduate students (36 masters/11 doctoral) and 4 postdocs. Her trainees have won major national awards, including a CIHR Banting Postdoctoral Fellowship. Russell-Mayhew's translation of the methods of research organization and supervision to the field of education is significantly impacting both the research and practices of other educational researchers. Best practices have been translated across school boards, public health agencies, and other health organizations (i.e., Alberta Education approved Body Image Kits; Canadian Public Health Association report on childhood obesity).
Dr. Russell-Mayhew's Body Image Research Lab provides opportunities for (a) collaboration on existing data sets and research projects; (b) contributions to research supervision of undergraduate and master's students; (c) participation in within- and across- faculties research team meetings on interdisciplinary projects and across universities on provincial and national projects; and (d) dissemination opportunities both written and oral in individual and group contexts. Dr. Russell-Mayhew create a research milieu that is a collaborative learning experience for her students, capitalizes on their individual strengths, provides opportunities to be mentored and be a mentor, creates interdisciplinary skills, and is directly in line with the future career objectives of each student. Her supervision follows a scientist-practitioner model and involves intensive individual supervision as well as at least monthly group supervision in the lab.
Body Image Research Lab website
Current Projects
Dr. Russell-Mayhew is a national leader in mental health research and translation, bridging the gap between the eating disorder and obesity fields to find integrative and preventative interventions. Through skillful integration of social and medical sciences, and deep collaboration with practitioners, Dr. Russell-Mayhew has changed how we understand the effects of weight bias on mental health. She is leading a transformation in wellness teaching and practice.
2020. UCalgary Teaching and Learning Development and Innovation Grant. $7500. From Plenaries to Podcasts: Advancing Student Learning in EDUC 551. PRINCIPAL. (Co-applicants: Kerri Murray, Louise McClelland, Sarah Nutter, Jessica Saunders).
2019. SSHRC Partnership Engage Grant. $18, 305. Policy, Practice, and Partnership: Comprehensive School Health in School Communities. PRINCIPAL. (Co-Applicants: Palliser School District; Kupery, Cranston, Alberta Health Services; McKernan, Wierl).
2018. SSHRC Insight Grant. $59,940. Weight of the World: Expert Conceptualizations of the Complexities of Weight. PRINCIPAL. (Co-Applicants: Drs. Nancy Moules and Andrew Estefan).
2018. WellAhead Student Wellbeing for Systems Change Fund: McConnell Foundation. $288,700. Teachers of Tomorrow: Advancing School Wellness Through Teacher Preparation. CO-PRINCIPAL. (Murray, K. – Ever Active Schools).
Professional & Community Affiliations
Dr. Russell-Mayhew holds membership in a number of professional organizations including: Canadian Counselling and Psychotherapy Association, Canadian Psychological Association (CPA), Canadian Obesity Network, Eating Disorder Association of Canada and the Academy for Eating Disorders (AED). She is the past treasurer for the counselling psychology subsection of CPA, and former co-chair of the special interest group in prevention for AED.
Biography
Dr. Russell-Mayhew is a professor and registered psychologist with a research program in the prevention and treatment of eating and weight-related issues. Dr. RM's research is unique in that it (a) focuses on the prevention of eating-related issues particularly in school contexts; (b) considers the risk and protective factors that integrate the prevention of eating disorders and obesity with the promotion of mental health wellness and resiliency ; (c) uses mixed methodological designs to capture both process and outcome in an ecological framework; and (d) capitalizes on interdisciplinary knowledge from both participants and the research team.
The primary objective of Dr. Russell-Mayhew's research program is to lead and transform research about weight-related issues like body image (perceptions, attitudes, and experiences about the body), disordered eating (e.g., unhealthy methods of weight change), weight-related disorders (e.g., obesity and eating disorders) and professional conversations and interactions about weight (e.g., weight bias). Body weight and body image (feelings and perceptions about our bodies) are both important to well-being and healthy development. Her research is informed by clinical and research experience in interdisciplinary team contexts, as well as linkages between her work in academia and committee work with policy-makers and community partners.
Her professional journey working with weight-related issues is influenced and fueled by a deeply personal and sometimes troubled relationship with her own body. No one is immune to the cultural discourses about weight. In her work, she reflects on the personal, professional and political 'situatedness' of her research and aspires to embody the change she wishes to see in the world.
Publications
Please see CV for a complete list
Wharton, S et al. (in press). Obesity in adults: A clinical practice guideline CMAJ [note: all authors are listed on the CMAJ article] Canadian Medical Association Journal. CMAJ-19-1707.R2
Kirk, S. Ramos Salas, X. Alberga. A., & Russell-Mayhew, S. (in press). Reducing Weight Bias in obesity management practice and policy: Canadian Guidelines for the Management and Prevention of Obesity.
Vallis, M., Macklin, D., & Russell-Mayhew, S. (in press). Effective behavioral interventions. Canadian Guidelines for the Management and Prevention of Obesity.
The Adult Obesity Clinical Practice Guidelines are a living document, with only the latest chapters posted at obesitycanada.ca/guidelines
Williams, E. P., Russell-Mayhew, S., Moules, N. J., & Dimitropoulos, G. (2020). "My whole world fell apart": Parents discovering their child has anorexia nervosa. Qualitative Health Research. https://doi.org/10.1177/1049732320939508
Brun, I., Russell-Mayhew, S., & Mudry, T. (2020). Last Word: Ending the intergenerational transmission of body dissatisfaction and disordered eating: A call to investigate the mother-daughter relationship. Eating Disorders.https://doi.org/10.1080/10640266.2020.1712635
Kassan, A., Goopy, S., Green, A., Arthur, N., Nutter. S., Russell-Mayhew, S., & Silversides, H. (2020). Becoming new together: Making meaning with newcomers through an art-based ethnographic research design. Qualitative Research in Psychology, 17(2), 294-311. https://doi.org/10.1080/14780887.2018.1442769
MacInnis, C., Alberga, A. S., Nutter, S., Ellard, J. H., & Russell-Mayhew, S.* (2020). Regarding obesity as a disease is associated with lower weight bias among physicians in Canada: A cross sectional survey study. Stigma & Health. https://doi.org/10.1037/sah0000180
Nutter, S., Russell-Mayhew, S., & Saunders, J. F. (2020). Towards a sociocultural model of weight stigma. Eating and Weight Disorders – Studies on Anorexia Bulimia and Obesity, advance online publication. https://doi.org/10.1007/s40519-020-00931-6
Nutter, S., Russell-Mayhew, S., Ellard, J. H., & Arthur, N. (2020). Reducing unintended harm: Addressing weight bias as a social justice issue in counselling through justice motive theory. Professional Psychology: Research and Practice, 51(2), 106-114 https://doi.org/10.1037/pro0000279
Awards
Community Engagement Award (2019). Werklund School of Education, UCalgary
UCalgary Teaching Award for Full-Time Academic Staff (2019)
Feminist Mentorship Award (Canadian Psychological Association - Student Nominated) (2018)
Research Excellence Award (2018). Werklund School of Education, UCalgary
UCalgary Teaching and Learning Award for Graduate Research Supervision (2018)
UCalgary Teaching and Learning Award for Educational Leadership (Group) (2018)
Distinguished Research Lecture Award (2015). Werklund School of Education, UCalgary
Inaugural Academic Fellow (2014 -2017), Population Health and Inequities Research Centre (PHIRC), Institute of Public Health, Cumming School of Medicine, UCalgary. One of eight academics receiving this honor in recognition of research contributions related to public health.
Distinguished Research Supervision Award (2014), Werklund School of Education, UCalgary
GREAT Supervisor Award (2014), Faculty of Graduate Studies, UCalgary
Presentations
Please see CV for a complete list
Media Work
Please see CV for a complete list