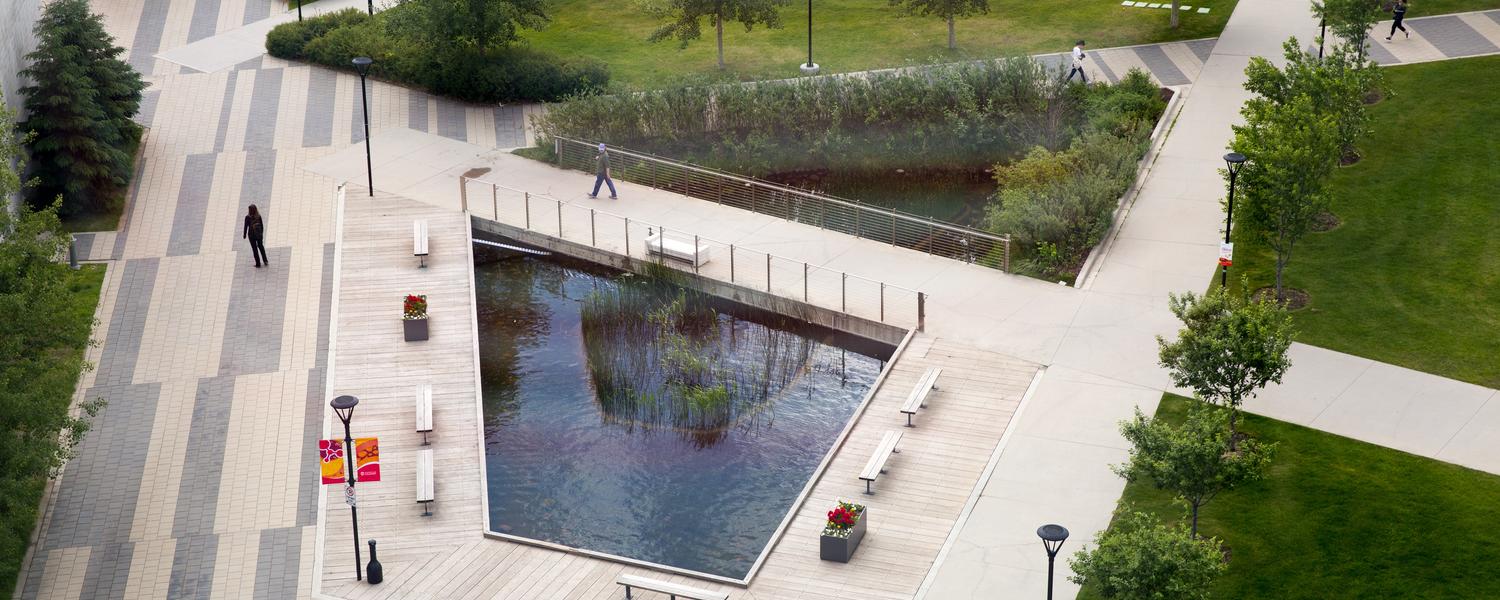 Interdisciplinary PLC at William Aberhart High School
The Calgary Board of Education believes that each student is unique and that personalized learning is the key to their success. Therefore, the CBE offers many professional development opportunities, including opportunities to teach in interdisciplinary contexts and work with other teachers to create authentic tasks that make learning visible for students.
Students entering their final year of the B.Ed. program are invited to apply to work with teachers at William Aberhart High School to design and implement an interdisciplinary project for students in Grade 10 or 11. Selected participants will join a Professional Learning Community (PLC) as you and your students take up an interdisciplinary unit between late August 2021 and January 2022.
I really enjoyed participating in the inquiry project ... I loved the opportunity to study what I wanted and focus on something that was important to me.
What's Involved
Pre-service teachers will work alongside Aberhart staff to design and implement an interdisciplinary unit for the September-January semester. This interdisciplinary project will involve several steps:
An Orientation Session. Participants will meet with the Aberhart admin team and their partner teachers for an orientation to the placement and using interdisciplinary strategies in a high school setting. This session will help to deepen your understanding of the Program of Study, essential outcomes for each discipline, as well as how to collaborate with other teachers in the PLC.
Identifying Student Interest. Using principles of design thinking, participating pre-service teachers will develop a process for identifying student interest (i.e., what topics, issues, or big ideas are they most interested in?).
Introduce the Interdisciplinary Project. Participants will use students' input to design an interdisciplinary project that students will take up over the course of their Fall semester. This will be a responsive process, and will include co-constructing a rubric to assess students' projects with alongside their partner teacher at the end of the term.
Review Student Proposals and Offer Feedback. Students will submit proposals detailing how they will take up your interdisciplinary unit. Using your subject knowledge and the co-designed assessment tools, participants will offer feedback and guide students as they begin their work.
Guiding Student Progress. Throughout the semester, participants will connect regularly with students to guide their work and get feedback from the Aberhart team about the work they are doing with the class.
Project Culmination & Assessment. Participants will reconnect with their students and support them as they finish their interdisciplinary projects.
A Public Celebration of Learning. A core part of the scholarship of teaching and learning is sharing your work with other educators. You, your partner teachers, and your students will be invited to a public celebration of learning at the school to showcase the students' work and recognize participants' contributions.
Dates and Times
Orientation Sessions: This half-day session will take place before the end of the 2021-2022 school year

Werklund Orientation: May/June
William Aberhart Orientation: May/June

Identifying Student Interest and Introducing the Interdisciplinary Project: These steps will take place in early September during the school day at William Aberhart (between 9:00am and 3:40pm). The specific time will depend on your EDUC class schedule as well as the subject areas for your students' interdisciplinary project.
Review Student Proposals and Offer Feedback: This will also take place in September, based on the times you are able to be in the school to connect with the students.
Guiding Student Progress: We encourage participants to be at the school as often as possible to meet with their students as they work on their projects. During September and October, this will take place outside of your class times at times that make sense for the groups you are working with. Online connections, which will be arranged with the school, will serve as another way to stay in touch with your students as they continue their work.
Project Culmination and Assessment: These steps will take place in November, again outside of your EDUC course time.
Public Celebration of Learning: January 2023. This is the end of the students' semester and a critical point for being able to debrief their project and celebrate their work from the term.
Requirements
Pre-service teachers need a current Police Information Check with Vulnerable Sector Screening (issued after July 1, 2021).
Pre-service teachers must be entering the final year of their teacher education program to be eligible for this opportunity
Since students will participate in the school's professional development days before the start of the school year, participants need to be in Calgary and available starting August 27, 2021.
Participants must also be available to attend the initial orientation, to be held in May or June 2021.
Please also note:
Because you will be leading an interdisciplinary unit directly with students and their teachers, it is important that you are familiar with the Program of Study for at least 1 subject area and are comfortable with how Alberta Education structures the curriculum.
Making Connections
Pre-service teachers will participate in 2 group meetings during their placement. One will take place in early October (as a check-in), the other in early January (to debrief). These group meetings will provide pre-service teachers with the opportunity to reflect on their experience, and to guide improvements for the program.
For more details about this opportunity, check out the following links:
In the spirit of how the CBE supports teachers, interested students should approach this as a collaborative journey. Students should come in with a knowledge of their subject area and collaborate actively with their partner teacher. Participants will draw on the courses they have already completed (e.g., Specialization 1, Assessment, Diversity in Education), as well as the courses they will take during the placement (e.g., Interdisciplinary Learning, Specialization 2) to enrich student learning and increase your knowledge of how these concepts live in individual schools.