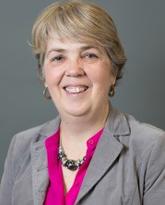 Janet Elizabeth Groen
Professor
EdD - Adult Education
University of Toronto
MEd - Adult Education
University of Toronto
Bachelor of Education
Queen's University
Bachelor of Environmental Studies (Honours)
University of Waterloo
Research and Scholarly Activity
Research areas
Adult/continuing education
Adult Education and Comunity Development
Adult Learning Processes
Contemplative Pedagogy
Environmental Education
Spirituality of Adult Education
Spirituality within Various Workplace Contexts
Activities
Dr. Groen's research focuses on transformational learning and learning opportunities for marginalized non-traditional adult learners. Her other area of research explores the link between spirituality and adult learning within various contexts such as the workplace, the university and in adult environmental education.
Current Projects:
Providing Access to Transformational Learning for Non-Traditional Adult Learners: A Study of the Clemente Program as a Model for Lifelong Learning.
Disenchantment to Enchantment: The Role of the Spiritual Retreat Centre in Adult Environment Education: University Research Granting Council, University of Calgary, Starter Grant.
Biography
In 2002 Dr. Groen moved to Calgary with her family to begin her career at the University of Calgary. She has taught several courses in Adult Learning including: Organizational Theory, Program Planning and Evaluation, Sustainability in the Workplace and Theories of Adult Learning. She is also a seminar leader in the Professional Development and Lifelong Learning Course for the Bachelor of Education program.
Professional & Community Affiliations
Dr. Groen has been particularly active in the Canadian Association for Studies in Adult Education; serving as co-president with Dr. Guo from 2009 to 2011 and as past co-president from 2011 to 2012.
Publications
Groen, J. & Kawalilak, C. (in press, 2014). Pathways to adult learning: professional and educational narratives. Toronto, On: Canadian Scholars Press.
Kawalilak, C. & Groen, J., (2014). Guest Editors. Locating adult education within a faculty of education context: opportunities and obstacles. Canadian Journal for the Study of Adult Education, 26(2).
Groen, J., Coholic, D. & Graham, J. (Eds.) (2012). Spirituality in education and social work: theory, practice and pedagogies. Waterloo, ON: Wilfrid Laurier Press.
Groen, J. (2013). From malaise to re-enchantment: The spiritual retreat centre as a place of environmental education. Journal for Studies in Spirituality, 3(1), 46-55.
Groen, J. & Kawalilak, C. (2013). The tapestry of adult education research in Canada. In T.Nesbit, S. Brigham, T. Gibb & N. Taber (Eds.), Building on critical traditions: adult education and learning in Canada. (pp. 29-38). Toronto: Thompson Press.
Groen, J. & Hyland-Russell, T. (2012). Let's start at the very beginning: the impact of program origins and negotiated community-university partnerships on Canadian radical humanities programs. International Journal of Lifelong Education
Groen, J. & Hyland-Russell, T. (2011). Humanities professors on the margins: Creating the possibility for transformative learning. Journal of Transformative Education. 8(4): 223-245.
Awards
Visiting Scholar, Faculty of Education, Canterbury Christ Church University, Canterbury, UK, 2014
Teaching Award for Full-Time Faculty (Associate Professor Level), University of Calgary, Calgary, AB., 2014