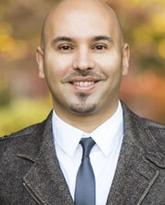 Umit Boz
Senior Instructor
PhD - Curriculum and Instruction (Language and Literacy Specialization)
State University of New York at Albany
MSc - Teaching English to Speakers of Other Languages (TESOL)
State University of New York at Albany
BSc - Avionics
Anadolu University
Minor Teaching English as a Foreign Language (TEFL)
Anadolu University
Research and Scholarly Activity
Research areas
Second language teaching and learning
Conversation and discourse analysis
Intercultural communication
Sociolinguistics
English for academic purposes (EAP) curriculum design
English for academic purposes (EAP) teaching
Language assessment
Quantitative research methods
Interlanguage pragmatics
Content-based instruction
Computational discourse analysis
Leadership in collaborative learning
Activities
Positioned at the intersection of Applied Linguistics, Communication, and Education, Dr. Boz's research is centred on developing and applying novel discourse analysis techniques to better understand how students negotiate and (re)construct their interactional roles and identities in a variety of settings, including situated interactions, task-based dialogues, and small group learning.
Professional & Community Affiliations
The Canadian Association of Applied Linguistics / L'Association Canadienne de Linguistique
The Canadian Association for the Study of Discourse and Writing / L'Association Canadienne de Rédactologie
Biography
Dr. Umit Boz is a Senior Instructor in the Werklund School of Education. He received his B.Sc. in Avionics (Aviation Electronics) from the Faculty of Aeronautics and Astronautics at Anadolu University, Turkey. He then pursued his graduate studies at the State University of New York at Albany where he received his M.Sc. in TESOL and his Ph.D. in Curriculum and Instruction with a specialization in Language and Literacies. Dr. Boz teaches undergraduate and graduate-level courses on subjects relating to Second Language Learning, Applied Linguistics, and Interdisciplinary Learning.
Publications
Boz, U., Barrantes, L., & Tweedie, M. G. (2018). Second language socialization in higher education: An exploratory case study. Journal of Educational Thought, 51(3), 361–83.
Oliveira, A.W., Boz, U., Broadwell, G.A., & Sadler, T.D. (2014). Student leadership in small group science inquiry. Research in Science and Technological Education, 33(3), 281–297. https://doi.org/10.1080/02635143.2014.942621
Broadwell, G.A.,Stromer-Galley, J., Strzalkowski, T., Shaikh, S., Taylor, S., Liu, T., Boz, U., Elia, A., JiaoL., & Webb, N. (2013). Modeling sociocultural phenomena in discourse. Journal of Natural Language Engineering,19(2), 213–257. https://doi.org/10.1017/S1351324911000386
Broadwell, G.A., Boz, U., Cases, I., Strzalkowski, T., Feldman, L., Taylor, S., Shaikh, S., Liu, T., Cho, K., & Webb, N. (2013). Using imageability and topic chaining to locate metaphors in linguistic corpora. In A. M. Greenberg, W. G. Kennedy, N. D. Bos and S. Marcus (Eds.), Social Computing, Behavioral-Cultural Modeling and Prediction Lecture Notes in Computer Science, Volume 7812, (pp 102-110). Springer, Berlin, Heidelberg
Strzalkowski, T., Shaikh, S., Liu, T., Broadwell, G. A., Stromer-Galley, J., Taylor, S., Boz, U., Ren, X. (2013). Influence and power in group interactions. In A. M. Greenberg, W. G. Kennedy, N. D. Bos and S. Marcus (Eds.), Social Computing, Behavioral-Cultural Modeling and Prediction Lecture Notes in Computer Science, Volume 7812, (pp 19-27). Springer, Berlin, Heidelberg
Awards
The President's Award for Leadership-International Student Leadership Award, "In recognition of extraordinary leadership, service, and commitment to the university," State University of New York at Albany, 2014
Dr. Anna Maria Bonaventura Memorial Scholarship "In recognition of commitment to teaching English as a second language", State University of New York at Albany, 2013
The Mauritz Johnson Scholarship "In recognition of academic promise and commitment to education," State University of New York at Albany, 2012