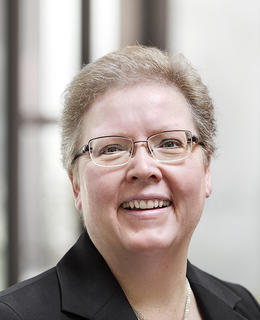 Jennifer Lock
Positions
Vice Dean
Werklund School of Education
Professor
Werklund School of Education, Specialization, Learning Sciences
Background
Educational Background
Doctor of Philosophy University of Calgary, 2004
Master of Education (Thesis) University of Saskatchewan, 1992
Bachelor of Arts University of Saskatchewan, 1989
Bachelor of Education University of Saskatchewan, 1984
Biography
Dr. Jennifer Lock grew up in Saskatchewan. Jennifer attended the University of Saskatchewan where she completed her Bachelor of Education and Bachelor of Arts degrees and later completed a Masters of Education degree in Educational Administration. In 2004, Jennifer convocated with a Doctor of Philosophy degree in Educational Technology at the University of Calgary.
Dr. Lock has experience as both a school administrator and teacher in the provinces of Saskatchewan and Alberta. She taught in the Teacher Education Program at Aurora College in NWT. Later, she worked as a Coordinator of Distance Education and Technology at Aurora College before moving to Calgary to pursue her doctoral studies. Dr. Lock has taught in both the undergraduate and graduate programs in the Werklund School of Education at the University of Calgary.
Professional & Community Affiliations
Dr. Lock is a member of the following professional organizations: American Educational Research Association (AERA), Canadian Network for Innovation in Education (CNIE), Association for the Advancement of Computing in Education (AACE), and Canadian Society for the Study of Education (CSSE).
Research
Areas of Research
Scholarly Activity
Dr. Lock's research interests are in the following five areas: 1) E-learning with a specific focus in distance education, online learning communities, and building capacity of online educators; 2) Technology integration in education and teacher education that involves designing learning in technology-enhanced learning environments and online collaboration; 3) Change and innovation in education (teaching, learning and leading) with a specific interest in leading innovation, in classrooms, schools and districts, involving educational technology;  4) Educational development and the scholarship of teaching and learning in higher education; and 5) Experiential learning through making and makerspaces.
Interests:
E-Learning
Educational Technology
Integrated Technology in Education
Leadership of Educational Technology
Technology and Teacher Education
Distance Education
Scholarship of Teaching and Learning
STEM Pedagogy
Makerspaces
Projects
Current:
Assessment Framework for Experiential Learning in Makerspaces
Awards
Izaak Walton Killam Graduate Supervision & Mentorship Award,

University of Calgary.

2019

University of Calgary Graduate Student Association (GSA), Excellence in Supervision Award,

2018

GREAT Supervisor Award,

University of Calgary, Faculty of Graduate Studies.

2017

University of Calgary, U Make a Difference Award,

2016

University of Calgary Teaching Award for Educational Leadership (Formal Role),

2015

University of Calgary Teaching Award for Curriculum Development,

2015

Werklund School of Education Distinguished Graduate Supervision Award,

2014

Faculty of Education Leadership in Education Award,

2013

Faculty of Educations Teaching Excellence Award,

2012
Publications
Teacher conceptualizing and developing assessment for skill development: Trialing a maker assessment framework.

J. Lock, S. Becker, & P. Redmond. Research Evaluation, 30(4). 540-551. (2021)

From assistants to partners: A framework for graduate students as partners in SoTL research.

J. Lock, C. Johnson, L. Hill, C. Ostrowdun, & L. da Rosa dos Santos. Teaching & Learning Inquiry, 9(2). (2021)

Creating technology-enabled lifelong learning: A heutagogical approach.

J. Lock, S. Lakhal, M. Cleveland-Innes, P. Arancibia, D. Dell, & N. DeSilva. British Journal of Educational Technology, 52. 1646-1662. (2021)

Boundary crossing between formal and informal learning opportunities as a pathway for advancing e-learning sustainability.

K. Bradshaw, J. Lock, & G. Parchoma. Canadian Journal of Learning and Technology, 46(3). (2021)

Embedded experts in online collaborative learning: A case study.

J. Lock & P. Redmond. The Internet and Higher Education, 48(1). (2021)

Fostering learning through making: Perspectives from the International Maker Education Network.

J. Lock, D. Gill, T. Kennedy, S. Piper, & A. Powell. International Journal of E-Learning & Distance Education, 35(1). (2020)

Bridging distance: Practical and pedagogical implications of virtual makerspaces.

J. Lock, P. Redmond, L. Orwin, A. Powell, S. Becker, P. Hollohan, & C. Johnson. Journal of Computer Assisted Learning, 36(3). 1 -12. (2020)

Is internationalization intentionally integrated in online learning environments? Exploring the challenges and possibilities.

O. Fakunle, J. Lock, & C. Johnson. International Journal on Innovations on Online Education, 4(3). (2020)

A world café discussion on well-being: Considerations for life in the university.

M. McDermott, M. Simmons, J. Lock, & N. Kenny. The Canadian Journal for the Scholarship of Teaching and Learning, 11(2). (2020)

Art as meditation: A mindful inquiry into educator well-being.

R. Crowder, J. Lock, E. Hickey, M. McDermott, M. Simmons, K. Wilson, R. Leong, & N. De Silva. The Qualitative Report, 25(3). 876 - 890. (2020)

Developing a cyberbullying conceptual framework for educators.

P. Redmond, J. Lock, & V. Smart. Technology in Society, 60 . 1-8. (2020)

Designing and implementing an online academic integrity tutorial: Identifying the challenges within a post-secondary context.

J. Lock, M. Schroeder, & S.E. Eaton. Journal of Educational Thought, 52(3). 193-208. (2020)

When educators come together to speak about well-being: An invitation to talk.

M. Simmons, M. McDermott, J. Lock, R. Crowder, E. Hickey, N. DeSilva, R. Leong, & K. Wilson. Canadian Journal of Education, 42(3). 850-872. (2019)

Responses to internationalisation in two schools of education.

C. Kawalilak, J. Lock, & P. Redmond. Journal of Educational Thought, 51(3). 407-436. (2019)

Advancing cross/intercultural awareness and responsiveness in higher education contexts: Theme issue.

C. Kawalilak & J. Lock. Journal of Educational Thought, 51(3). 235-238. (2019)

Secondary pre-service teachers' perceptions of technical pedagogical content knowledge (TPACK): What do they really think? .

P. Redmond & J. Lock. Australasian Journal of Educational Technology, 35(3). 45-54. (2019)

Fostering higher order thinking with text and video in online learning: By design.

C. Johnson & J. Lock. International Journal on Innovations in Online Education, 2(3). (2018)

Exploring quality of life through an online international collaboration.

J. Lock & S. Duggleby. Technology, Pedagogy and Education, 27(5). 533-548. (2018)

It's more than making: Facilitating learning through the maker movement.

J. Lock, L. dos Santos, P. Hollohan, & S. Becker . Alberta Science Education Journal, 45(2). 10 – 16. (2018)

Living the curriculum review: Perspectives from three leaders.

J. Lock, S. L. Hill, & P. Dyjur. Canadian Journal of Higher Education, 48(1). 118-131. (2018)

Influence of co-teaching on undergraduate student learning: A mixed-methods study in nursing.

J. Lock, J. Rainsbury, T. Clancy, P. Rosenau, & C. Ferreira. Teaching & Learning Inquiry, 6(1). 38-51. (2018)

Navigating the tensions of innovative assessment and pedagogy in higher education.

J. Lock, B. Kim, K. Koh, & G. Wilcox. The Canadian Journal for the Scholarship of Teaching and Learning, 9(1). (2018)

Pre-service teachers' perspectives of cyberbullying.

P. Redmond, J. Lock, & V. Smart. Computers & Education, 119. 1-13. (2018)

Conceptualizing formal and informal learning in MOOCs as Activity Systems.

K. Bradshaw, G. Parchoma, & J. Lock. Quarterly Review of Distance Education, 18(3). 35-52. (2017)

Influence of co-teaching on the development of transformational leadership skills in undergraduate nursing students: A pilot study.

T. Clancy, C. Ferreira, J. Rainsbury, P. Rosenau, & J. Lock. College Quarterly, 20(3). (2017)

Using Design-Based Research to develop meaningful online discussions in undergraduate Field Experience courses.

C. Johnson, S. L. Hill, J. Lock, N. Altowairiki, C. Ostrowski, L. da Rosa dos Santos, & Y. Liu. International Review of Research in Open and Distributed Learning, 18(6). 36 -53. (2017)
Immersive Education: Designing for Learning.

P. MacDowell & J. Lock (Eds.). Springer. 285. (2022)

Teacher as Designer: Design Thinking for Educational Change.

D. Scott & J. Lock (Eds.). Springer. 156. (2021)

The Finest Blend: Graduate Education in Canada.

G. Parchoma, M. Powers, & J. Lock (Eds.). Athabasca University Press. 328. (2020)

Educational Developments, Practices and Effectiveness: Global Perspectives and Contexts.

J. Lock, P. Redmond, & P.A. Danaher (Eds.) . Palgrave Macmillan. (2015)

Educational Innovations and Contemporary Technologies: Enhancing Teaching and Learning.

P. Redmond, J. Lock, & P. A. Danaher (Eds.) . Palgrave Macmillan. (2015)

Introduction: Meaningful immersive learning education.

J. Lock & P. MacDowell . In P. MacDowell, & J. Lock (Eds.), Immersive Education: Designing for Learning. Springer. 1-12. (2022)

Conclusion: The future of immersive learning: Designing for possibilities.

P. MacDowell & J. Lock . In P. MacDowell, & J. Lock (Eds.), Immersive Education: Designing for Learning. Springer. 273-281. (2022)

Plurality and technology in the learning sciences.

J. Lock, A. P. Preciado-Babb, J. E. Hernández-Zavaleta, & D. Lambert. In M. C. Shanahan, B. Kim, M. A. Takuchi, K. Koh, A. P. Preciado-Babb, & P. Sengupta (Eds.), The Learning Sciences in Conversation; Theories, Methodologies, and Boundary Spaces. Routledge. 248-254. (2022)

Reimagining technology in learning sciences: Empowering alternative discourses.

A. P. Preciado-Babb, J. Lock, D. Lambert, & J. E. Hernández-Zavaleta. In M. C. Shanahan, B. Kim, M. A. Takuchi, K. Koh, A. P. Preciado-Babb, & P. Sengupta (Eds.), The Learning Sciences in Conversation; Theories, Methodologies, and Boundary Spaces. Routledge. 203-209. (2022)

Role of mentorship and reflection in leading through making: A pilot project.

J. Lock, K.-M. Fedorko-Bartos, K. L. Turner, & K. Wise. In J. Keengwe & Y. Tran (Eds.), Handbook of Research on Equity in Computer Science in P-16 Education. IGI Global. 148-164. (2021)

Re-imagining assessment: Assessing design thinking with in makerspaces.

S. Becker & J. Lock. In D. Scott & J. Lock (Eds.), Teacher as Designer: Design Thinking for Educational Change. 119 - 132. (2021)

Graduate student online orientation programs: A design-based research study.

J. Lock, Y. Liu, C. Johnson, J. Hanson, & A. Adlington. In G. Parchoma, M. Power, & J. Lock (Eds.). The Finest Blend: Graduate Education in Canada. Athabasca University Press. 71 - 102. (2020)

Instructors' professional learning and implementation of problem-based learning in higher education.

J. Lock & K. Koh. In J. Keengwe (Ed.), Handbook of Research on Innovative Pedagogies and Best Practices in Teacher Education. IGI Global. 69-84. (2020)

Designing an online graduate orientation program: Informed by UDL and studied by Design-Based Research.

J. Lock, C. Johnson, J. Hanson, Y. Liu, & A. Adlington. In S. L. Gronseth and E. M. Dalton (Eds.), Universal Access through Inclusive Instructional Design: International Perspectives on UDL. Routledge. 250 - 257. (2019)

Secondary pre-service teachers' exploration of inclusive education: A case study.

J. Lock & P. Redmond. In A.E. Lopez & E. L. Olan (Eds.), Transformative Pedagogies for Teacher Education: Critical Action, Agency and Dialogue in Teaching and Learning Contexts. Information Age Publishing, Inc. 37 – 54. (2019)

Advancing the writing of academics: Stories from the writing group.

J. Lock, Y. Kjorlien, G. Tweedie, R. Dressler, S.E. Eaton, & E. Spring. In N. Simmons & A. Singh (Eds.), Critical Collaboration Communities: Academic Writing Partnerships, Groups, and Retreats. The Netherlands: Brill/Sense Publishers. 55-65. (2019)

Enhancing instructor capacity through the redesign of online practicum course environments using Universal Design for Learning.

J. V. Lock, C. Johnson, N. Altowairiki, A. Burns, L. Hill, & C. P. Ostrowski . In J. Keengwe (Ed.), Handbook of Research on Blended Learning Pedagogies and Professional Development in Higher Education. IGI GLobal. 1-20. (2019)

Playing together: Designing online music courses using a social constructivist framework.

J. Lock & C. Johnson. In C. Johnson & V. C. Lamothe (Eds.), Pedagogy Development for Teaching Music Online. IGI Global Publications. 183 - 201. (2018)

Personalizing educational development for online music educators: A coaching approach.

J. Lock. In C. Johnson & V. C. Lamothe (Eds.), Pedagogy Development for Teaching Music Online. IGI Global Publications. 306-319. (2018)

Pre-service teachers' perceptions about identifying, managing and preventing cyberbullying.

P. Redmond, J. Lock, & V. Smart. In L. Liu & D.C. Gibson (Eds.), Research Highlights in Technology and Teacher Education 2017. Association for the Advancement of Computing in Education (AACE). 109-116. (2017)

A journey through the development of online environments: Putting UDL theory into practice..

C. P. Ostrowski, J. Lock, S. L. Hill, L. da Rosa dos Santos, N. Altowairiki, & C. Johnson,. In. P. Vu, S. Fredrickson, & C.S. Moore, Handbook of Research on Innovative Pedagogies and Technologies for Online Learning in Higher Education. IGI Global. 218-235. (2017)