Master of Education: Specialist
For current students in a specialist program.
Master of Education (MEd), Specialist route
The Master of Education (MEd): Specialist Route is a course-based degree program that provides students with a systematic understanding of knowledge, and a critical awareness of current problems and/or new insights, much of which is at, or informed by, the forefront of their academic discipline, field of study or area of professional practice in one specialization area. The Master of Education degree program has been designed to ensure that the courses and sequence provides a demanding, coherent, robust, credible and high-level academic experience that educates students as leaders of professional practice in the field of educational research. 
This route is a two-year program consisting of 12 half-courses (36 credits) within a specialization area. Students complete eight courses in the specialized area of study and four research courses that focus on research methods, program evaluation, collaboratory of practice, and reading and writing research pertaining to the specialization.
Students in our masters programs are engaged in immersive experiences that require them to:
Critically and analytically read research literature
Evaluate research literature
Review and critically analyze the literature to enable them to make practice and policy decisions
Carry out the scholarship of teaching and learning in schools, on campus and other organizations
Evaluate and apply research to complex learning problems and problems of practice
Write and report on research using a range of academic writing genres.
Our MEd programs are innovative, current, and practitioner-oriented programs designed to create scholars of the profession. Graduate Programs in Education has conceptualized and designed the MEd as a possible pathway into the professional Education Doctorate (EdD).
MEd Awards and Scholarships
Students are eligible for some internal scholarships. See the program-recommended awards page for details.
Program Delivery
Topics are offered in face-to-face, fully online and blended (combined face-to-face and online) options. Blended topics begin with face-to-face classes at the University of Calgary, during Summer, with online follow up. Courses 2 (Fall), 3 (Winter), and 4 (Spring) are delivered fully online. Check each topic to confirm format for delivery.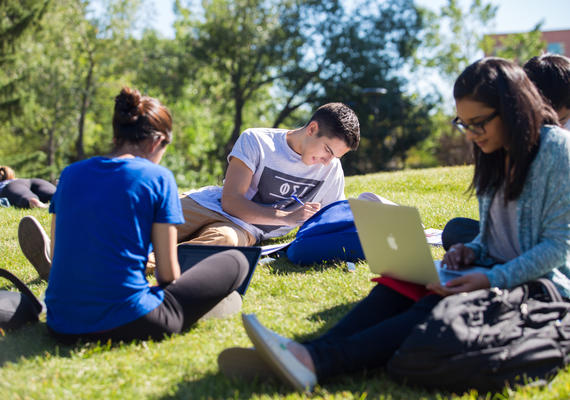 Current Cohorts
The program pages below are intended to provide information for students currently enrolled in a MEd Specialist program. Prospective students should note that future program offerings may be subject to updates.