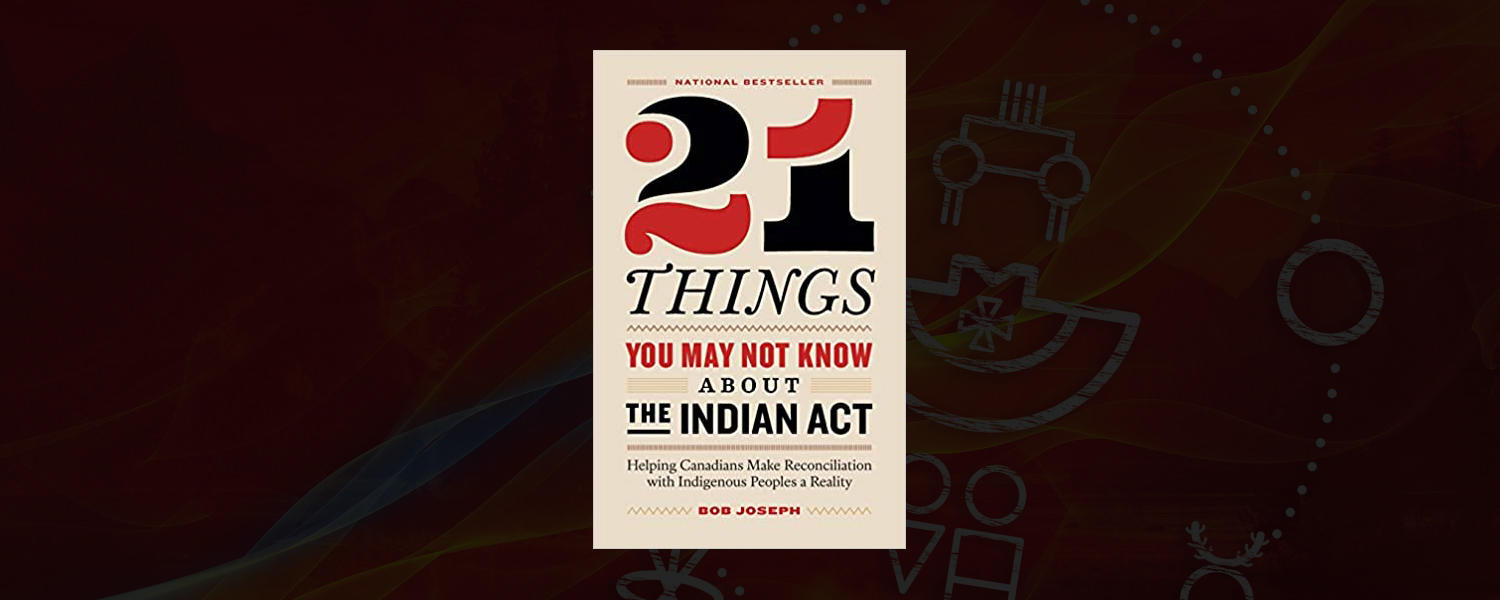 21 Things You May not Know About the Indian Act
by Bob Joseph
Publisher's description (Indigenous Relations Press, 2018): Based on a viral article, 21 Things You May Not Know About the Indian Act is the essential guide to understanding the legal document and its repercussion on generations of Indigenous Peoples, written by a leading cultural sensitivity trainer. 
Since its creation in 1876, the Indian Act has shaped, controlled, and constrained the lives and opportunities of Indigenous Peoples, and is at the root of many enduring stereotypes. Bob Joseph's book comes at a key time in the reconciliation process, when awareness from both Indigenous and non-Indigenous communities is at a crescendo. Joseph explains how Indigenous Peoples can step out from under the Indian Act and return to self-government, self-determination, and self-reliance—and why doing so would result in a better country for every Canadian. He dissects the complex issues around truth and reconciliation, and clearly demonstrates why learning about the Indian Act's cruel, enduring legacy is essential for the country to move toward true reconciliation. Bob Joseph is a member of the Gwawaenuk First Nation.
Resource format: Non-Fiction History
Age recommendation: University
Keywords: Indian Act, stereotypes, reconciliation, policy, Canada, history, Truth and Reconciliation
Year of publication: 2018
Publisher information: Indigenous Relations Press
Teaching and Learning Ideas
Our team collaborated with new teachers, alumni of the Werklund School of Education's Bachelor of Education program, to create teaching and learning plans for texts in this website. With audiences ranging from Pre-Kindergarten to Post-Secondary, lesson plans across this resource address a wide range of school subject areas, inclusive approaches, and Indigenous education topics, such as the revitalization of Indigenous languages. As this website was designed with Undergraduate Programs in Education instructors, as well as teachers in mind, connections to UPE courses have been flagged on each lesson plan. These lessons are intended as a starting place for educators, to help you envision ways in which you might bring Indigenous literatures, as well as ways of knowing, being, and doing, into your teaching contexts. Please adapt, use, and share these lessons in ways that are generative for your teaching practice. We offer our sincere thanks to the dozens of new teachers who gifted us with these creative ideas!