Master of Education Graduate Marcia Steeves
Marcia graduated with her MEd in 2023. She specialized in Leading and Learning in a Digital Age, a program option within the Master of Education, Interdisciplinary route.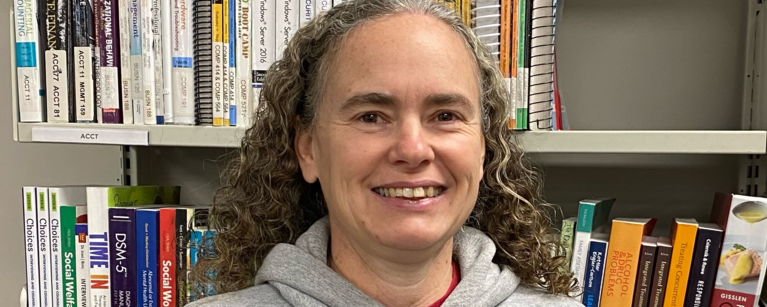 It has been a long journey to Werklund for Marcia. She obtained her BSc (Hons) in Anthropology from Trent University, her Post Grad Diploma in Museum Management & Curatorship from Fleming College, and completed her Library Technician Diploma at Mohawk College.
Why did you choose to study at the Werklund School of Education?
I wanted to find a program that I could successfully complete while working and that offered concentrations/topics that I could apply to my existing role.
How did you arrive at your thesis topic? What drew you to that particular area of focus? 
Leading and Learning in a Digital Age was particularly poignant given the proliferation of online learning during COVID, but also because I have personally been an online learner for a number of years. This topic allowed me to combine my learning with ethical perspectives of online teaching practices.
Who is someone who had an important influence on your experience at Werklund? Tell us about their impact. 
All of the faculty within this topic were extremely knowledgeable and encouraged all of us to delve deeper into our understanding. Dr. Verena Roberts and Dr. Barbara Brown both guided me in the research I completed and continue to encourage me as I have moved on to further studies.
What is the most important lesson you learned from your graduate studies experience? 
Learning is never complete. Each day, each class, I learn something new from faculty, classmates or the research I do. In my younger years, I did not think that I was capable of reaching this level, but this program made it clear that it was attainable and that the learning is indeed valuable to the work I do.
Where has your education from the Werklund School of Education taken you in your career?
This program has helped me increase my effectiveness in my role as Academic Integrity and Copyright Officer at Fleming College. I hope that it will open doors for future project work and allow me to build upon the good work my institution has already done to improve the student experience at our college.
Outside of Werklund, what are your favourite pastimes? Do you have any interesting hobbies or talents? 
I am very involved in the local and provincial labour movement with my union, focusing much of my volunteer time on social justice issues and representing workers.
What advice would you give to those about to begin their graduate studies journey? 
Enjoy the journey. You will find that learning takes place in the spaces between readings and assignments, and I for one am quite grateful for the classmates that I was able to experience this program with.
What do you plan to do after you have completed your degree? How do you hope to make a positive impact in the community?
I will continue to advocate for inclusive education practices and share the knowledge I have gained with those that I work with.