Journal of Educational Thought (JET) promotes speculative, critical, and historical research concerning the theory and practice of education in a variety of areas including administration, comparative education, curriculum, educational communication, evaluation, instructional methodology, intercultural education, philosophy, psychology, and sociology. Critical and controversial views in the field of education or on previously published articles in the Journal of Educational Thought appear in a section entitled "The Forum," which contains papers of a less formal nature. The book section includes short book reviews as well as extended book review essays. The Journal is international in scope and qualitative in nature. It serves a broad readership: specialists in the areas mentioned, scholars, and the public in general.
It is the policy of the Journal to provide an open forum for scholarly discussion. Editorials, articles, and book reviews are to be regarded as expressing the viewpoints of the writers themselves and not as reflecting official positions of the Werklund School of Education or the University of Calgary. The editors reserve the right to make changes that improve the clarity or brevity of manuscripts.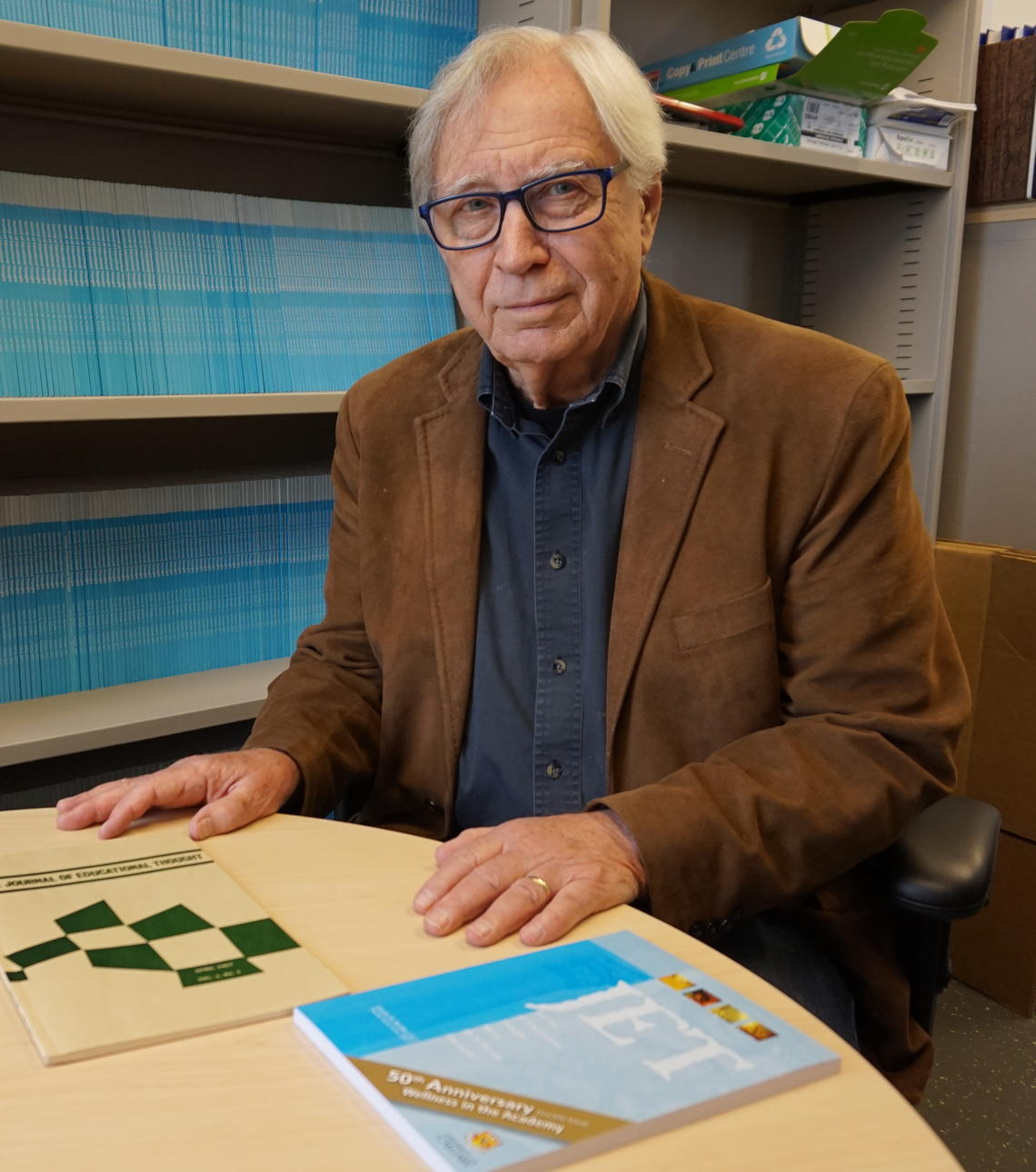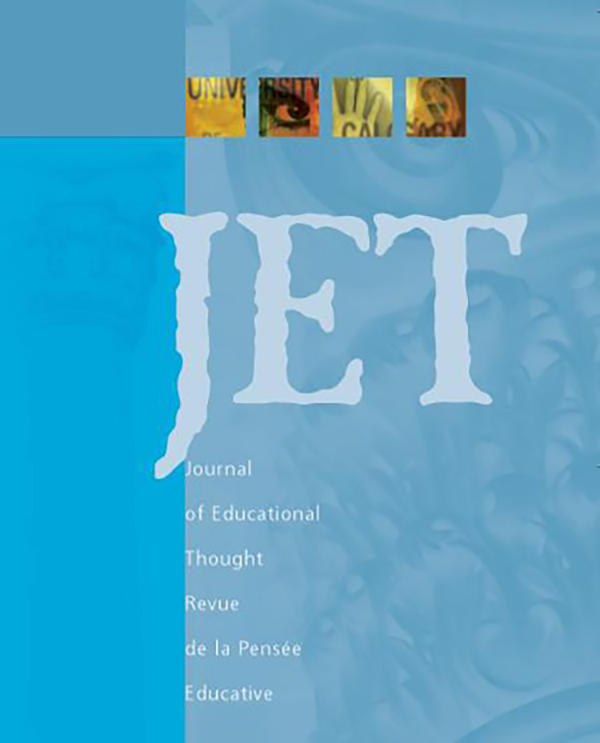 The Journal of Educational Thought (JET) has been in print now for the last fifty years (1967 to 2017). It was planned in the first year (1966) the new University of Calgary was in existence and its first issue came out in 1967 under the editorship of the then Dean of the Faculty of Education, H.S. Baker . It described itself as follows:
"The Journal of Educational Thought provides an outlet for the discussion of educational ideas. In general, it complements empirical research by speculative, critical thought about public education. The Journal draws specifically upon philosophical, social and historical insights, but is receptive to other approaches both theoretical and practical-- including both those of teachers and administrators".
In its first issue a clear attempt was made to draw on important writers in Canada and abroad. The lead article was by Charles Dobinson, a well known comparative educator from the University of Reading in the UK wrote on "Education Tomorrow". James Paton from the University of Toronto addressed himself to the perennial problem of "Teaching People to Think ". Joseph Katz of the University of British Columbia offered a comparative analysis of the educational similarities and differences between Britain and Japan and our own Donald Vandenberg offered a case study of "Ideology and Educational Policy". Charles Phillips, the onetime Director of Graduate Studies in he Ontario College of Education and generally considered the dean of Canadian educators, offered in a piece entitled "Schooling in an Earlier Era" a lifetime of reminiscences.
Some years later JET also published and continues to publish articles in French as well as English. While the numbers of the French articles have always been relatively few, the articles have always been of a high quality.
What do things look like fifty years later? In the Volume 50, Number 1 issue for 2017 educational ideas are still paramount, though the ideas are both more international and perhaps more unfamiliar. The lead article is by Stephen White from Applachian State University writing on "Globalization and Higher Education: Exploring Holistic Learning Through Sri Aurobindo's Thought". Kimberley Homes of the University of Calgary writes on "Mindfulness as a Practice of Professional Life: A Reflective Learning Journey with Second Year Teachers". The University of Toronto is also represented in this issue with Adam Hill's "Towards an Understanding of the Value of Dialogic Inquiry into and about Values". The final article is entitled "John Dewey and Progressive Education" by Erin Hopkins of Virginia Tech. The book reviews treat of two books" The Thoughtful Leader" and "Understanding School Choice in Canada". The next two issues of the journal were combined in Volume 50, Numbers 2&3 as a special 50th Anniversary Double Issue on the topic of "Wellness in the Academy" guest edited by Jennifer Lock, Gabrielle Wilcox and Yvonne Kjorlien. We hope to make this issue freely available on line as our first venture into on line publishing before 2017 is out.
Ian Winchester, Editor
Author Guidelines
Articles submitted to the Journal of Educational Thought (JET) may address any form of systematic enquiry in all fields related to or associated with education whether in Canada, North America, or any part of the world. The journal is particularly interested in educational arguments and writing that discuss controversial topics.
Submission of a manuscript presupposes that the manuscript has not been previously published, is in press, or is under consideration elsewhere. Prior to publication, authors will assign their copyright to JET by signing a standard copyright consent form.
JET does not charge a fee for publication of an author's article. If a manuscript's topic fits the journal's vision and requirements the manuscript will be sent to at least two outside peer reviewers assigned by the Editor. The Editor will study the reviews and then decide whether to accept the manuscript, reject it, or request revisions, or perhaps ask for further reviews.
Submission should be via email to JET@ucalgary.ca in Microsoft Word format. Submission can be made at any time throughout the year; there is no deadline for submission. If an article is accepted, it will be published in one of the upcoming issues.
Abstract
Authors must provide an abstract of their manuscript. Abstracts should not exceed 150 words.
Keywords
Author(s) should provide five keywords that describe the main idea discussed in their manuscript. Please write the keywords below the abstract.
Format
Use Times New Romans 12 font size and double space (single space and 10 font size for quotations and notes). Manuscripts are not to exceed 5,000 words excluding references. Figures, tables and photos must be inserted into the manuscript. Avoid using screenshots for figures and tables.
Style
At the beginning of the manuscript include the title, followed by authors names and affiliation, an abstract, keywords, the text, reference list, and e-mail address for correspondence. The Journal of Educational Thought's writing style follows the Publication Manual of the American Psychological Association (6th. Ed). Footnotes and endnotes are not allowed unless as necessary brief explanatory notes.
Price List - Volume 50, 2017
Journal of Educational Thought - ISSN: 0022-0701
Subscription Prices Effective January 1, 2017
INSTITUTIONS: $145.00 CDN (+GST for Canadian Subscribers)
INDIVIDUALS/STUDENTS: $130.00 CDN
POSTAGE: Prices include AIR MAIL postage $20.00 per volume.
Prices applicable to Canadian, American, and Foreign Subscribers.
CANADIAN SUBSCRIBERS - GST: The Goods & Services Tax is applicable to Canadian Subscribers ONLY.
Please add 5% GST to the annual subscription price.
PLEASE NOTE: All Cheques must be made payable to: "University of Calgary" or they will not be accepted for deposit and will be returned.
c/o, Journal of Educational Thought
Educational Tower Room 902,
2500 University Drive NW
Calgary, AB
T2N 1N4
** INVOICES: Invoices are generally not provided. Should a formal invoice be required to accommodate annual subscription, please provide email notification at (jet@ucalgary.ca) and a formal invoice will be issued.
We are unable to provide a discount for agents or accommodate multiple year subscriptions.
The Journal of Educational Thought is published in Spring (April/May), Fall (August/September), and Winter (December/January). No index is published.
Subscriptions must be by calendar year. We prefer payment by February 15th if possible.
Cancellations accepted at any time; refunds will be prorated. EMAIL: jet@ucalgary.ca
We gratefully acknowledge the financial assistance of the Social Sciences and Humanities Research Council of Canada and the Alberta Advisory Committee for Educational Studies.