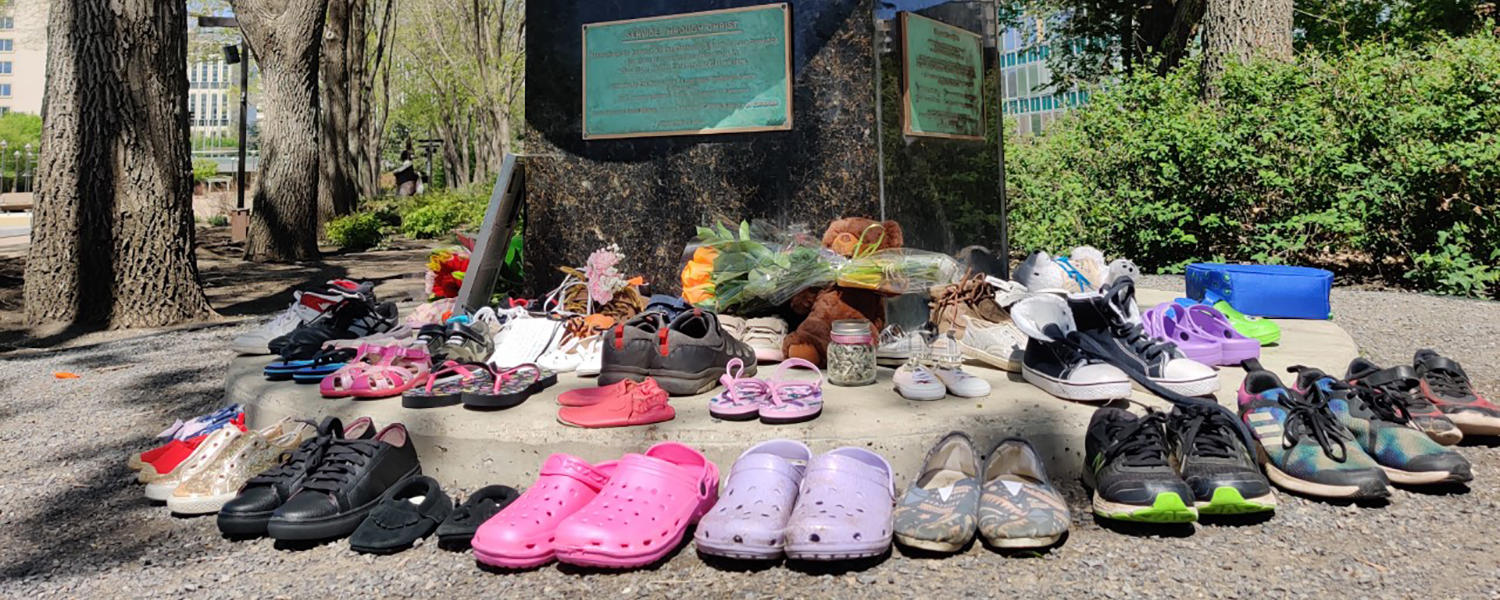 Our Renewed Commitment to Truth and Reconciliation
The news of the 215 Indigenous children buried in an unmarked grave at the Kamloops Indian Residential School has come as a great shock to some, but not all.  Sadly, stories like this have been shared for years, for generations, amongst the First Peoples of Canada, but it is only now that Canadians are seeing stark evidence of the 150 years of genocide inflicted on Indigenous Peoples and beginning to comprehend these stories for what they are – Canadian truths. These stories, these truths, remain hidden from many in a whitewashed school curriculum, where the darker narratives of our shared Canadian history continue to be cloaked behind the hesitancy of political and faith leaders to fully acknowledge and recognize the crimes that have been committed – to do the right thing.
As a country, we cannot heal nor move forward until we speak the truth to the atrocities that occurred in our schools across this nation.  Statements can help to elevate the public discourse – to honour those who have been affected and to raise awareness of those who were not told of the crimes, and to redress the stark systemic racism represented by these schools that operated until 1996. Statements are a start.  They issue a call for solidarity against racism and other societal injustices, and they signal the responsibility leaders have to not only advocate but to also enact change against oppressive, colonial practices that continue to disadvantage and harm Indigenous Peoples.  But statements alone are not enough.  Statements without action undermine our shared intent as we wait for others to take the difficult steps towards reconciliation.
Let us take this moment of shared grief, this feeling of anger, and a sense of humility, and commit to truth-telling practices in the daily experiences that shape our schools, our communities, and our institutions.  Let us ensure this heartbreaking story is not lost or forgotten, that it remains central to our shared commitment to enact positive change in our classrooms. Let us ensure that the history of Indigenous Peoples is reflected and represented fully – even when the material is difficult – so that we can begin to heal and create the inclusive, diverse and wondrous society that Canada aspires to be. Let us truly understand that the many stories of systemic genocide that occurred in Canada for over 150 years are not just stories, they are truths. 
As Dean of Education at the Werklund School of Education, together in solidarity with Yvonne Poitras Pratt, Director, Indigenous Education, we commit and re-commit to sharing these truths in our faculty, and in our relations with our schools, and in our respective communities as we have done since 2013, knowing that we can always do more and do better.  We will lead with intellectual humility and ask for guidance and wisdom from Indigenous colleagues, Elders and Knowledge-Keepers, and fiercely advocate for what is right and just.  The path forward will require us to come together in community toward reconciliation and decolonization. We commit our collective efforts to doing better for the future generations of children and we will continue to advocate and act for a more just world.
May the spirits of these children, and those who remain to be found, lift up the hearts of their families and communities from the sorrow and pain, and know that these sacred lives lost far too soon inspire our actions. 
Dianne Gereluk,
Dean and Professor
Werklund School of Education  
Yvonne Poitras Pratt
Director, Indigenous Education
Werklund School of Education