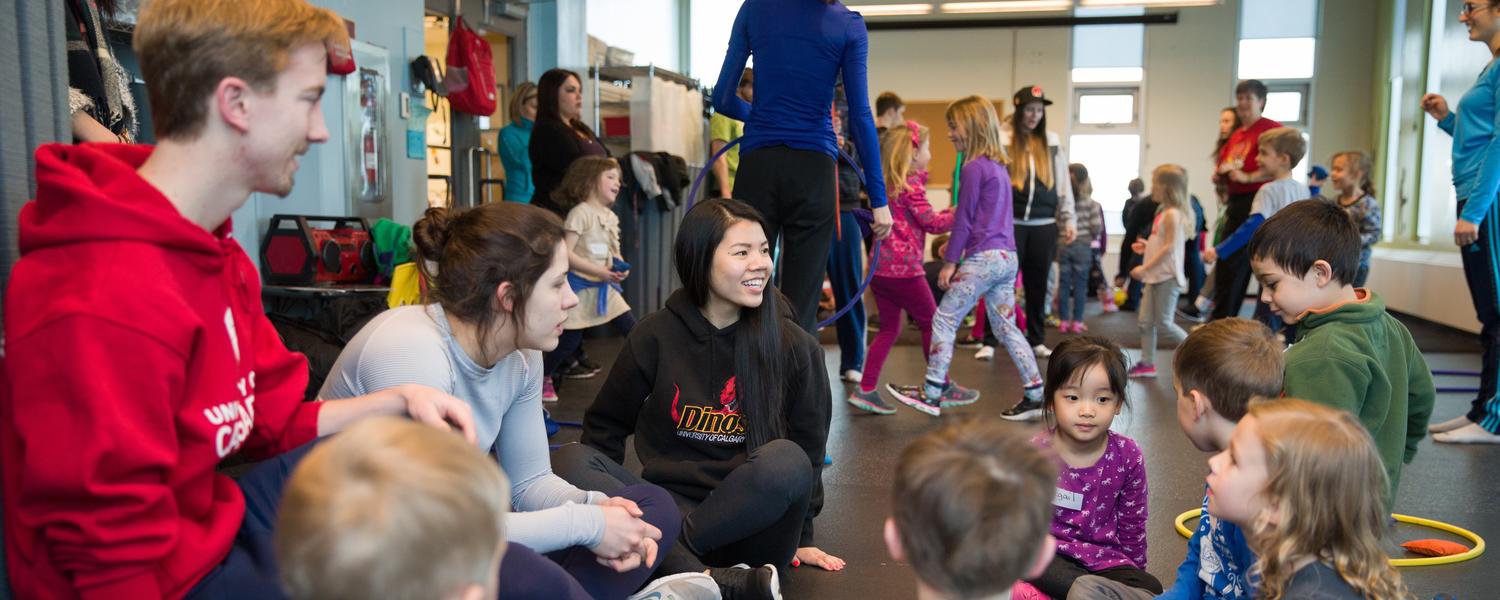 Building Community in Calgary Classrooms

Building Community in Calgary Classrooms is a collaborative opportunity with schools across the city of Calgary. This three-week service-learning placement gives students entering their final year of the program the chance to work alongside teachers as they begin a new school year. Participants support the school start-up process and work with teachers to develop classroom community and foster relationships with students from August until mid-September.
Participants have the opportunity to actively engage in classroom settings, based on the needs of each class. Participants are also encouraged to become involved in other aspects of the school community during and after their service placement to give them a broader sense of how to develop community in different settings.
What's Involved
Participants will meet their school partners before the school year begins to begin developing their relationship and learning about how schools prepare for the start of a new school year. These activities may include supporting teachers as they prepare for the new term, attending in-service sessions, and brainstorming community-building activities for the start of the term.
Pre-service teachers will volunteer in classrooms in the school during the first three-four weeks of school. In-classroom activities will focus on active engagement in a classroom setting and may include working with students one-on-one and in small groups or supporting teachers as they develop community in their classrooms.
Students who are interested in continuing their placements after the first three weeks of the semester are encouraged to discuss this possibility with the teachers they are working with. While this may not be an option for all students, it is sometimes possible to transition the placement into an ongoing classroom support/coaching role.
Requirements
Participating pre-service teachers must have successfully completed Field 2 and be entering the final year of their BEd program.
Participants must be available and in Calgary during the dates of their placement. This includes being available during UCalgary Block Week (late August) and UCalgary Orientation week (early September).
Pre-service teachers need a current Police Information Check with Vulnerable Sector Screening. For some schools, this police check must be separate from the one students received for their Field Placements. Further details will be provided once students are matched to the program.
Please Note
While we encourage students to engage in their school community after this placement has ended, we are not able to place students with the same school/teacher during their Field 3 placement.
Making Connections
Pre-service teachers will participate in a group meeting at the end of their placement (approximately 1 hour). This group meeting will provide pre-service teachers with the opportunity to reflect on the service-learning experience, and to guide improvements for the program.
Program Dates
Werklund Dates
Applications open: March 1, 2023
Applications close: June 1, 2023
Werklund Orientation: August 15, 2023, 10:00 am
Group Reflection Session: October 2, 2:30 pm
Placement-Specific Dates
School Orientation and Prep: End of August (school and school board dependent)
In-School Placement: Late August - early October

CBE Non-Instruction Days: August 28-30, 2023
CCSD Professional Growth Days: August 29-31, 2023
RVS Organizational and Professional Learning Days: August 29 - September 1, 2023
CBE Classes Start: August 31, 2023
CCSD Classes Start: September 5, 2023
RVS Classes Start: September 5, 2023

The details of your in-school placements (e.g., whether they're all-day, half-day, in 1 classroom or several classrooms) will depend on participant availability and the school/teachers' needs
Program Learning Outcomes
Design and implement a variety of activities that meet students' interests and learning needs
Examine how programs and educators create communities that are conducive to teaching and learning
Gain experience working with youth in a classroom setting
Identify specific opportunities for you to contribute to program communities in a positive, professional manner
Model positive behaviour for children, youth, teachers, and parents
Navigate new challenges as an educator with the support and guidance of a mentor in a similar field
Share and receive knowledge regarding teacher education and teaching practice
Fall 2023 Applications are now closed.
Are you going to be starting your final year of the BEd in Fall 2024? Apply for the Fall 2024 Building Community in Calgary Classrooms (BCCC) program in Spring 2024.
...what a fabulous opportunity it was to have these students with us for the past month. They have come off and on in their spare time and have been so valuable to supporting our students and teachers... Their initiative and enthusiasm were both greatly appreciated. We have absolutely loved having them here with us.
It takes a few years for most teachers before they experience what we got to experience. Many teachers would feel overwhelmed in a new school at a new position. The advantage this placement has given us is that it's shown us how things work behind the scenes before the students come in and how important it is to have things setup correctly.
We got to see how teachers prepare for their first day and also how they begin establishing relationships with their students. It was also interesting to see the 'hiccups' in preparing for the first day and how the admin and teachers worked together to get through it.