If you are a high school or transfer student (who has not yet completed a degree), are certain of your career path, and want to become a certified teacher in the shortest allowable time period, this is the pathway for you! The Four-Year On-Campus Bachelor of Education allows you to start your Education major courses sooner, and ensures that you get a great breadth of coursework, helpful for teaching in Alberta's Kindergarten through Grade 12 classrooms!
Current Student interested in transferring into Education? Missed our Change of Program webinar? Check out our presentation PDF!
Important dates and upcoming events
Dec. 7, 2022
Today is the last day for non-Field classes!
Dec. 7, 2022
In-person drop-ins will start at 2.00pm today. We look forward to seeing you!
Dec. 10, 2022
Non-EDUC course final exams begin today.
Dec. 14, 2022
Interested in applying into our After-Degree program for a 2023 intake? Join us for our After-Degree BEd Webinar today at 6.00pm!
Dec. 21, 2022
Drop-ins are not available today, Wednesday, the 21st, and tomorrow, Thursday, the 22nd. Please connect with us via email at upe@ucalgary.ca, or, we will see you at drop-ins in the New Year!
Dec. 22, 2022
We will be closed for the Winter Break as of the close of office hours today, re-opening on January 2nd. Have a safe and restful holiday, and we look forward to connecting with you in the New Year!
Jan. 3, 2023
Check your add/swap/drop dates for EDUC 400 and 500s! These dates differ from other UCalgary classes due to their non-standard scheduling. 
Jan. 9, 2023
Winter 2023 classes begin today!
Jan. 23, 2023
Interested in applying into our Community-Based Four-Year pathway? Join us for our Future Student Webinar today at 6.00pm! Stay tuned for registration details.
Jan. 27, 2023
Winter term tuition is due today.
Feb. 13, 2023
EDUC 560: Field Experience IV begins today!
Feb. 20, 2023
Our office will be closed for Family Day, today. We look forward to connecting with you when we re-open tomorrow, on the 21st!
Feb. 20, 2023
Winter Term Break runs today through February 25th, except for Field IV students, who should refer to their placement school schedules.
March 13, 2023
EDUC 465: Field Experience II begins today!
April 7, 2023
Our office will be closed for the Easter Long Weekend today through Monday, April 10th. We look forwarding to connecting with you when we re-open on the 11th!
April 12, 2023
Today is the last day for non-Field classes!
April 15, 2023
Non-EDUC final exams begin today.
Grades Required
This program admits competitively, meaning that we have more applicants than seats available. Check out Admissions' Explore pages for more information on average ranges.
Police Information Check
A current, clear Police Information Check, with a Vulnerable Sector Check, is required of all Bachelor of Education students for the field experience component of the program. Students who are unable to present a current and clear check will not be placed in their field experience courses – a graduating requirement of the degree – and be asked to leave the program.
A Check is not required until your field course terms. As checks are time-sensitive, do not apply for one before instructed to do so by our Field Team! In the meantime, check out our Police Information Checks page.
Routes and Teachables
When applying, you will need to select a route and a teachable subject area. Each route and teachable has differing admission requirements: find out what options you have, below, and then check out the associated admission requirements. Elementary route areas focus on grades kindergarten through six, secondary on grades seven through twelve, and 'K-12' teachables cover all grades. Visit our Teachable Subject Areas page for more details!
Elementary route teachable subject areas

Early Childhood Education (Note: Emphasis on grades kindergarten through three)
English Language Arts
Fine Arts
Mathematics
Science
Social Studies
Social Studies - Revitalization of Indigenous Languages

Secondary route teachable subject areas

English Language Arts
Fine Arts - Drama
Fine Arts - Visual Studies
Mathematics
Science - Biology
Science - Physics
Social Studies

K-12 route teachable subject areas

English Language Learners
Second Languages
If you are a current University of Calgary student interested in transferring into this pathway, you will need to submit an 'internal' application known as a 'change of program'. You can do so through your MyUofC.
Do ensure to consider the following:
1. Admission into this degree is only available for the Fall semester. You must submit your change of program application between October 1st and February 1st before a desired fall term start.
2. A change of program is still an application: you must meet the admitting requirements for your desired program. Please thoroughly review the information above.
3. If you already know that you would like to pursue this degree, you may want to sit down with the advisors from our office to discuss what courses you should be registering in, to ensure that you are on track. You can also refer to the course information detailed below.
4. Applying into the Four-Year from a different Education pathway or teachable? You still need to meet course and competitive admitting requirements!
Please Note: Shadowing a program does not guarantee you admission into it! Make sure you're aware of the competitive admitting GPA and admission requirements needed!
Werklund's program has helped me understand how to welcome and empower all students in school. Empowering students to see themselves as unique individuals in our interconnected world provides them with the awareness and skills they need to become active members in society, and Werklund has set me up to foster this learning.
Carson Reveen
Clarence Sansom Gold Medal in Education recipient
Suggested program sequence
Please Note: You must successfully complete EDUC 201 before taking your 400-level EDUC courses. Additionally, the 400-level and 500-level courses are taken as distinct semesters - you cannot take any non-Education courses during your Education terms, nor can you 'mix and match' with other EDUC classes. If you have incorrectly registered in your 400-level or 500-level EDUC courses, you will be removed, and asked to correct your registration.
Specific program requirements
All Four-Year On-Campus students will complete 120 units, comprised of 21 EDUC major courses, 6 foundational courses, 5 electives, and 8 teachable subject area courses. The breakdowns for each requirement group are below.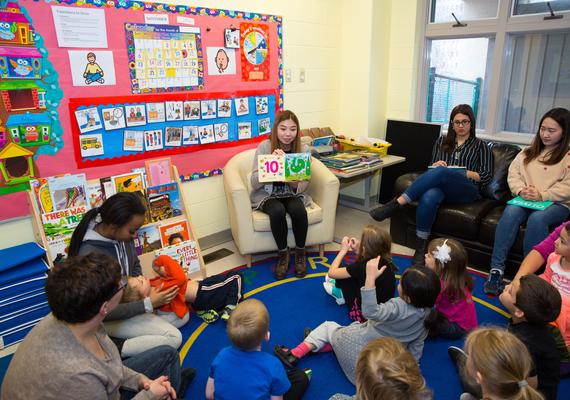 Preparing for the Classroom
"For the past three years, I have participated in the Service-Learning program. What I valued the most about Service-Learning is the ability to foster connections with my schooling, and to be able to see the firsthand impact of working so closely with students every week. Being able to reflect on each individual experience with the different students I have worked alongside has made me feel more prepared to enter a classroom."
 - Lisa Pham, BEd graduate