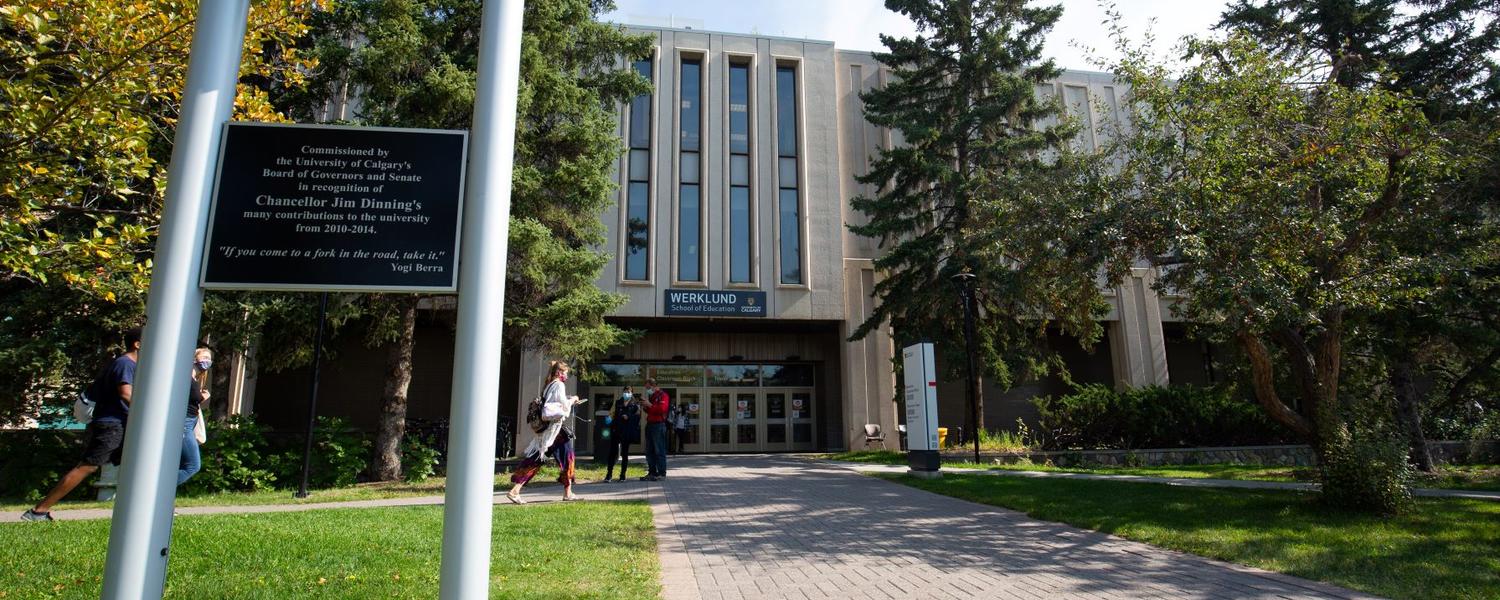 Werklund Student Undergraduate Research
Exploring your research opportunities
Werklund School of Education Bachelor of Education students have the opportunity to engage in undergraduate research, through undergraduate research awards and our Honours program.
The benefits of engaging in research
Undergraduate research awards provide students with the opportunity to pursue research between May and August, under the supervision of a faculty member, while the addition of Honours to your degree allows you to engage in research throughout the Spring, Summer, and Fall terms of your final year. Students are able to delve into a research topic that is in alignment with their interests, deepening their understanding in the area and gaining research skills and experience. Research awards provide financial support for students while they engage in their research endeavours, while the Honours program adds an official research designation to your degree. Past research award recipients have identified the following academic, professional, and personal benefits from their research experience.
Improve academic abilities which will help as you progress through your program
Gain research experience that can help you prepare for graduate studies (and may help to support your application)
Opportunity to learn from and collaborate with your supervisor
Broaden your exposure to educational research
Incorporate your research findings into practice, both in your field experiences and as a professional
Increase awareness of the research and literature available, and the importance of utilizing research-supported methods as a professional
Speak to your research experience in future employment opportunities – both the knowledge you have gained on the topic itself, and the research process
An opportunity to network and build connections in the community
Expand your professional skills in areas such as critical thinking, problem-solving, communication, project-management, and time-management
A research award or Honours provides you with the time and resources to explore a topic that you are passionate about
Opportunity to gain clarity around your personal goals and interests
Gain increased confidence in yourself and sense of connection to the teaching profession
I've already started incorporating my knowledge gained in this research into my course work. I am better student, a better researcher and I am confident this experience will make me a better professional in my field.
Justin Acton
PURE award recipient 2021
Recommendations for your award or Honours applications
Straight from past undergraduate research award winners, some tips and tricks on preparing for and submitting your application!
Past research award winners
Thank you to all Werklund School of Education faculty who supported undergraduate students through their applications and research!
Werklund Undergraduate Research Award Recipients

Evan Beck | "Teacher Technostress During COVID-19: A Rapid Review"

Kevin Dang | "Community English Language Learner (ELL) Programs and Supports"

Leila Linton | "Technology-Enhanced Music Education during COVID-19: A Literature Review"

PURE Program Recipients

Arianna Mamer | "Integrating Critical Literacy into Science Classrooms"

Mischa Simpson Kovalchuk | "Boardgame Reasoning: A Field Guide"

Munesah Rahman | "'Changes in Students' Written Communication of Strategies and Challenges with Iterative Board-Game Play"

Sharmaine Tay | "A Review of the Research: Collaborative Group Learning in Education during COVID-19 - A Call Forward"

Tajinder Athwal | "English-as-an-Additional Language Learners in Chemistry Classrooms – A Literature Review"
Werklund Undergraduate Research Award Recipients

Raneem Elhowari | "An Exploration of Counter-Deficit Pedagogy with Refugee Families in the Context of Early STEM Education"

Claire Paton | "Students' Understandings and Experiences of Creativity and Risk in Science Learning"

Education Student | "An Annotated bibliography of geometric transformation games"

PURE Program Recipients

Justin Acton | "Infinite Habitat – Customized Gaming to Engage Diverse Youth"

Kristen Beechey | "Best Practices for Alberta Teachers Engaging with Citizen Science"

Lindsay Swartz | "Building Indigenous Identity Through Culturally Responsive Programming"

Samantha Ruud | "Exploring Student Assessments in an Online Learning Environment: Challenges and Opportunities in the New Normal"

Grace Bogowicz | "Experiences of LGBTQ+ youth with isolation and family violence during the COVID-19 pandemic"

Madelyn Shuffler | "Affordances of Children's Nonfiction Picturebooks on Climate Change"

Jeanne Liendo | "The History of the Spanish Bilingual Program in Calgary"

Jason Valleau | "A lesson plan celebrating a collaboration with Stoney Nakoda and Tsuut'ina Nation drumming that also recognizes the limitations and imposition of Eurocentric music theory systems"

Alberta Innovates Recipient

Veronica Rawnsley | "Optimizing the virtual reality experience through mindfulness" 
Werklund Undergraduate Research Award Recipients

Nancy Liu | "Exploration of Bilingualism in the Linguistic Landscape of Bilingual Schools and Surrounding Communities"

Jordann Fernandes | "Developing a design framework for student-generated questions to drive research, innovation, and creative inquiry in science courses"

Jinping Pang | "Exploring ethnic identity in Canada: A Chinese woman's experience"

PURE Program Recipients

Savannah Poirier Hollander | "Sacred Beginnings"

Leonard Cohen | "Best Practices for the Implementation of Board Games in the Elementary Mathematics Classroom"

Robyn Buttigieg | "Effectiveness of Methods for Educating Elementary Students with ASD in Literacy"

Jonah Secreti | "Pre-service teacher preparation to educate citizenship: An analysis of the discourses of civics and citizenship education"

Sydney Suffron | "Studying the Impact of a Teaching Intervention with Students With Math Learning Difficulties"

Nicole Langevin | "Enriching Geometric Understanding through the Early STEM Pedagogy"

Catherine Huynh | "Student Performance on Large-Scale International Assessments in Canada, Singapore, and China: A Systematic Review"
I entered the PURE program having very little knowledge regarding research, so do not feel like you need to be an expert.
Samantha Ruud
PURE award recipient, 2021