Kindred's Families Together

Kindred is all about realizing the power of human connection. Our programs and services respond to the challenges that threatened families and leave them vulnerable. Through a focus on enhancing the mental health and well-being of our clients, we can help clients build strong and resilient families: allowing them to live the lives they have always wanted.
In the spirit of reciprocity, volunteers at Kindred are individuals, couples and families who contribute their time and passion, without the expectation of compensation, to our purpose of realizing the power of human connection. Partners in this purpose value courageous leadership, kindness, respect, compassion and accountability.
Families Together Logistics
What's Involved
The placement student role provides support to the Families Together team. The Families Together program is a 60-minute family-based community program.
The program is divided into two components.

The first half of the program involves the entire family and is activity-based.
The second half is a discussion-based parent group.

Activities during each week of program focuses on a specific, parent-chosen topic.
The placement student helps to lead activities, guides discussion, and offers support to participants throughout the program.

This role is flexible and can include other roles and responsibilities such as supply shopping, activity bag packing, curriculum development, etc.
Requirements
Pre-service teachers need a current Police Information Check with Vulnerable Sector Screening (issued after July 1 of the year you are participating). Students who do not already have a police check should begin this process at their local police station as soon as possible, as police checks often take 4-6 weeks to process.
Students placed with Kindred also require a Child Intervention Check issued by Alberta Human Services. More information about the CIC will be provided at the orientation session.
Volunteer References and Intake Documents will need to be completed and submitted once applicants are placed with Kindred's Families Together.
Werklund Dates and Times
Services Fair:  Thursday, September 8, 2022, 10 AM - 2 PM (in-person)
Applications Open: Thursday, September 8, 2022
Applications Close: Applications for some placements are on-going
Werklund Orientation: Wednesday, September 21, 2022
10:30 AM - 11:30 am AM (in-person) or
2 PM - 3 PM (via Zoom)
Fall Placements Start: October 1, 2022
Werklund Check-In Session #1: Monday, October 24, 2022
10 AM - 11 AM (in-person) or
4 PM - 5 PM (Zoom)
Werklund Wrap-Up Session: Wednesday, December 7, 2022 at 5 PM - 6 PM (Zoom)
Fall Placements End: December 9, 2022
Families Together Service Dates
Orientation/Training Session: September 27, 6:00 PM, Zoom 

Please note this training date occurs shortly after the application closes. If you are interested in this program, please apply as early in the application period as possible and please keep September 27 at 6 pm available 
There may be a different training date available if necessary

Session times are weekday evenings, typically Tuesdays. Program runs for 60 minutes each week. Programs usually start at 6:00pm.
In total, pre-service teachers agree to commit to a minimum of 20 hours for their service-learning experience
Throughout the semester, pre-service teachers will curate their service experiences using a creative medium (e.g., photos, art, storyboarding, videos, etc.) that best reflects their experiences in the program. Your creative reflections will form part of a public showcase of Werklund's service-learning program later in the year.
Pre-service teachers will participate in 2 group meetings: one at the mid-point and another at the end of their placement (1 hour each). These group meetings provide pre-service teachers with opportunities to reflect on the service-learning experience, and to guide improvements for the program.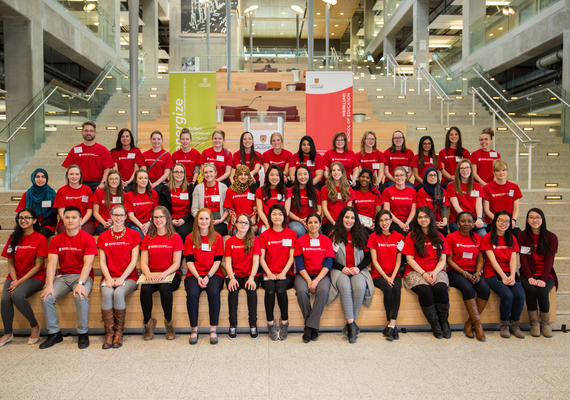 Fall applications are on-going!
Ready to apply?
1. Log on to Elevate
2. Go to Werklund School of Education > My Werklund Experiences
3. Click on Courses/Programs
4. Find the Service-Learning program and click Apply
5. Complete the Service-Learning Application on Step 1
I am so grateful for this organization, this program, and for the amazing coordinators. I have loved being a part of this program and I think it has been such a point of certainty and excitement as we all navigate the uncertainty of our world today.
Families Together Volunteer