A Unique Pathway
Drawing on the Werklund School of Education's strong foundation of innovation, and on the strengths of an excellent undergraduate program, the Four-Year Community-Based Bachelor of Education addresses issues of access and equity by providing a unique pathway to obtain a Bachelor of Education. This program was developed to attract students interested in pursuing a Bachelor of Education, but unable to commit to a residency-based program. The program thus hopes to mitigate the high turnover rate of teachers in rural and remote areas.
To do so, this degree will allow you to to remain in your home community for the majority of your studies, while receiving excellent instruction and advisory support from the University of Calgary. You will also gain teaching experience in your local community through your Field Experience practicum placements. 
While you are able to remain in, or near, your home community for the majority of your program, you will take courses on-campus each Summer, providing you with the opportunity to work with your cohort in a face-to-face environment. You will also attend an Orientation in your first year, and are afterward invited to various program sessions, allowing you to connect with the faculty and staff of the Werklund School of Education.
Delivery Method
You will take the majority of your courses online, and complete your Field Experiences in - or as near as is possible to - your home community. As the Bachelor of Education is a professional degree, you are encouraged to devote yourself to your studies on a full-time basis. However, if necessary, you are able to expand your program over more than four years.
Geographic Eligibility
Preference for admission into this program is given to students in rural and remote areas of Alberta. As field experience (practicum) placements can be arranged across Alberta, in the Northwest Territories, and in rural and remote British Columbia, students in these areas may also be considered.
Please Note: Graduates of this program will meet the teacher certification requirements for the Province of Alberta. Certification in other jurisdictions is not guaranteed.
Important dates and upcoming events
April 2, 2021
The University of Calgary is closed today for Good Friday. We will re-open on Tuesday, Apr. 6th
April 9, 2021
4 Year BEd Student Registration Session 2:30-3:30pm
Newly admitted 4 Year Bachelor of Education students are admitted to join us to learn more about their program, how to choose courses, and how to register! 
April 15, 2021
Last day of classes for the Winter 2021 semester
April 17, 2021
U@UCalgary 
April 23, 2021
Last day of Field Experience IV. This is also the earliest graduating students can receive a Dean's Recommendation Letter if they've submitted all the necessary documentation.
Admission
Walk through the application process in just five steps!
Geographic Eligibility
Preference for admission is given to students in rural and remote areas of Alberta. Students across Alberta, the Northwest Territories, and in rural and remote British Columbia may also be considered.
Please Note: Graduates of this program will meet the teacher certification requirements for the Province of Alberta. Certification in other jurisdictions is not guaranteed.
Grades Required
This program admits competitively, meaning that we have more applicants than seats available. You can get in touch with Admissions for more details on competitive entrance averages.
Police Information Check
A current, clear Police Information Check, with a Vulnerable Sector Check, is required of all Bachelor of Education students for the field experience component of the program. Students who are unable to present a current and clear check will not be placed in their field experience courses – a graduating requirement of the degree – and be asked to leave the program.
A Check is not required until your field course terms. As checks are time-sensitive, do not apply for one before instructed to do so by our Field Team! In the meantime, check out our Police Information Checks page.
The Bridging to the Community-Based Bachelor of Education pathway provides students who do not present the course English Language Arts 30-1, or meet the competitive admitting average for their desired teachable subject area, the opportunity to upgrade for admission into the Four-Year degree. The same geographic eligibility requirements mandated for the Community-Based program apply.
The Community-Based cohort felt like exactly that – a community. My cohort was a unique blend of students for whom the traditional model of post-secondary education did not fit. It was because of this unique community that we felt more like a family rather than students within a classroom.
Ngatai Crowchild
BEd graduate
Suggested program sequence
Summer term courses will take place on-campus, during a two-week intensive in July. Fall and winter term courses will be offered via distance, or involve your in-classroom field experiences, in your home community.
Year 1
Summer Term
EDUC 201
Fall Term
EDUC 420 | EDUC 430 | EDUC 435 | EDUC 440 (Field I)
Winter Term
2 Teachables | Canadian Studies | Math or Science | Psychology
Year 2
Summer Term
EDUC 460
Fall Term
2 Teachables | Literature | Health | Elective
Winter Term
EDUC 445 | EDUC 450 | EDUC 456 | EDUC 465 (Field II)
Year 3
Summer Term
EDUC 427
Fall Term
2 Teachables | Fine Arts | 2 Electives
Winter Term
2 Teachables | 2 Electives
Year 4
Summer Term
EDUC 525 | EDUC 535
Fall Term*
EDUC 520 | EDUC 530 | EDUC 540 (Field III)
*Opportunity to participate in Teaching Across Borders
Winter Term
EDUC 546 | EDUC 551 | EDUC 556 | EDUC 560 (Field IV)
Specific program requirements
All Four-Year Community-Based students will complete 120 units, comprised of 21 EDUC major courses, 6 foundational courses, 5 electives, and 8 teachable subject area courses. The breakdowns for each requirement group are below.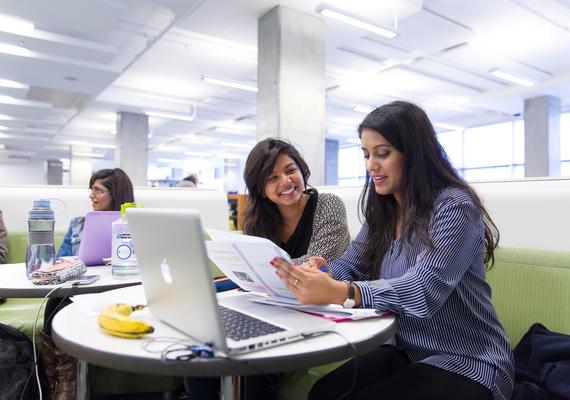 Starting the Journey
"I have been very excited to finally start my journey to become a teacher. I have always thought about going to school, but the financial restraints and time and distance away from my family from moving away seemed like too much for me to take on. This program has really given me the opportunity to start."
 - Gina Grabowski, current student
Please note that the University of Calgary does not provide students with an assessment of transfer credit prior to formal admission. No transfer credit ever applies to Education major courses: you must complete all mandated EDUC classes in order to obtain your degree. Any transfer credit awarded can only work towards fulfilling non-Education classes. Previously completed coursework that is more than ten years old, either from other post-secondary institutions or the University of Calgary, will not ordinarily be used towards any degree requirements.
Future Students can utilize Transfer Alberta in the meantime. This site provides a basic guideline as to what transfer credit you might receive.
If you are a newly admitted student, check out the Registrar's guide to enrolling as a transfer student. You should additionally utilize your Academic Requirements report to see how your prior courses fit into your degree. If Academic Requirements is not assigning a course to a particular requirement - and you think that it should be  - send us an email at upe@ucalgary.ca for further review!
A few regulations that we think you should know about:
Students cannot take non-Education courses during Education semesters. This is because Education semesters are jam-packed, and full of the academic rigours entirely appropriate for a professional degree program. While you can certainly take advantage of Spring and Summer semesters to fit in additional classes for lighter semester loads (or to catch-up), you should be mindful of your July Education courses, and plan for the pre-readings or post-class assignments.
You must have finished all non-Education courses before entering your final year of 500-level Education classes. Ideally, you will not have more than one year between your last 400-level EDUC term, and you 500-level Education classes.
Per Calendar Regulation 3.3, you must maintain a 2.50 GPA each semester, including over courses taken at other institutions. Withdrawal maximums also apply to non-Education courses taken elsewhere.
Email
All University of Calgary students must use their Ucalgary.ca accounts for any and all University of Calgary or degree-related correspondence. Email will not be sent to personal accounts.
You must additionally ensure to include your eight-digit UCID number in all correspondence.
Non-Standard Scheduling
Please note that Education courses are scheduled with 'non-standard' dates and times, and may differ from those semester timelines that you are used to in your non-Education courses. You should anticipate courses or field experiences that run outside of regular semester dates.
Synchronous Sessions
Your Fall and Winter Education courses are paced - and do have deadlines - as well as 'digital classroom' components. Classroom sessions are known as 'synchronous sessions', in which your class will connect simultaneously via the Zoom conferencing platform.
Classes usually have around four synchronous sessions per semester, often scheduled for around 4.30pm or later. You should refer to the Zoom schedule via your Registration Guide for more information.
Student Information
As a student in professional program, it is your responsibility to thoroughly review and abide by the information contained in the following pages:
Northern Lakes College Students
An exciting new transfer agreement with Northern Lakes College allows students to complete their Bachelor of Education by taking courses through both Northern Lakes, and the University of Calgary.
Summer Dates
2021 Dates
Summer 2021 courses will be delivered online due to the ongoing and evolving situation with COVID-19. Further information can be found under the Current Student tab and on the Registration Guide.
Online Success Program
Newly admitted students are required to complete the Online Success Program, designed to orient you to the platforms and skills necessary to be successful in an online learning environment. The program runs in June, and requires about 45 minutes to an hour of time daily.
Orientation
During your Summer terms, you will participate in orientation activities, built to familiarize you with the University community, resources that you can access (even during your distance-learning courses), and with faculty, staff, and fellow Education students. Check out our Community-Based Orientation site for details from the Summer 2020 Orientation.