A Unique Pathway
Drawing on the Werklund School of Education's strong foundation of innovation, and on the strengths of an excellent undergraduate program, the Two-Year Community-Based Bachelor of Education After-Degree addresses issues of access and equity by providing a unique pathway to obtain a Bachelor of Education. This program was developed to attract students interested in pursuing a Bachelor of Education, but unable to commit to a residency-based program. The program thus hopes to mitigate the high turnover rate of teachers in rural and remote areas.
To do so, this degree will allow you to to remain in your home community for the majority of your studies, while receiving excellent instruction and advisory support from the University of Calgary. You will also gain teaching experience in your local community through your Field Experience practicum placements. 
While you are able to remain in, or near, your home community for the majority of your program, you will take courses on-campus each Summer, providing you with the opportunity to work with your cohort in a face-to-face environment. You will also attend an Orientation in your first year, and are afterward invited to various program sessions, allowing you to connect with the faculty and staff of the Werklund School of Education.
Delivery Method
You will take the majority of your courses online, and complete your Field Experiences in - or as near  as is possible to - your home community. Please note that the After-Degree is only offered on a full-time basis.
Geographic Eligibility
Preference for admission into this program is given to students in rural and remote areas of Alberta. As Field Experience practicum placements can be arranged across Alberta, in the Northwest Territories, and in rural and remote British Columbia, students in these areas may also be considered.
Please Note: Graduates of this program will meet the teacher certification requirements for the Province of Alberta. Certification in other jurisdictions is not guaranteed.
Important dates and upcoming events
July 6, 2022
Summer term tuition is due today, including for EDUC courses starting July 11th.
July 11, 2022
Summer EDUC courses and Community-Based Orientation begin today, running until July 22nd!
Aug. 1, 2022
Our office will be closed for Heritage Day, today. We look forward to connecting with you tomorrow when we re-open!
Aug. 23, 2022
Advising Closure Notice: Advising will be unavailable today and tomorrow, August 24th, for our annual Academic Review follow-ups closure. We look forward to connecting with you on the 25th!
To gain admission to the After-Degree, all applicants must present:
A degree with a least 90 units (30 semester-long courses) from an accredited post-secondary recognized by the University of Calgary
The competitive entrance GPA for their desired teachable
A course in English or French Literature
The course requirements stated for your desired teachable subject area
Geographic Eligibility
Preference for admission is given to students in rural and remote areas of Alberta. Students across Alberta, the Northwest Territories, and in rural and remote British Columbia may also be considered.
Competitive Entrance Grades
Admission to the program is competitive, and with admitting grades varying between teachable subject areas. Competitive GPA is taken from your 10 most recent university-transferable courses. Because admitting GPAs vary from year to year with different applicant pools, students are encouraged to check out Admissions' Explore pages for more information on average ranges.
Applicants with graduate degrees should be aware that your entrance GPA will be calculated based on your 10 most recent, graded courses. These can be taken across degrees, chronologically back.
English or French Literature Requirement
Applicants must present an English or French Literature course for the purposes of admission. Unfortunately, language, technical writing, creative writing, composition, or communications courses do not meet this requirement. If you are unsure whether a class you took meets this criteria, please connect with us via upe@ucalgary.ca. At minimum, we would want to see the full course title and a description; a detailed course outline is even better (and, for the purposes of admission, may even be necessary). Please note that course outlines must be for the year in which you completed the course, as changes may mean that a newer outline is irrelevant. For course ideas, visit our page on acceptable literature courses offered at the University of Calgary.
Mount Royal University applicants should be aware that, unfortunately, the GNED courses do not meet the Literature requirement.
In Progress Admission Requirements
Courses being taken for the purposes of admission should be apparent when you submit your application, as it will be evaluated 'as is' when received. As such, if you have not registered in a course when you initially submit your transcripts, you may be denied admission on the basis of lacking a requirement.
Outlines and Back-Up Options
Course outlines may be necessary for the application process, particularly if a class' content is not made clear by the title – for example, a course labeled 'English' alone may refer to a course in which you learned the language, gained basic writing skills, or analyzed literature. In order to ensure that the course included sufficient literary content, a course outline must be provided. Said outline must be received by the March 15th document deadline.
We highly advise that you select a first and second choice Teachable Subject Area upon application. If not deemed admissible to your first choice, you will then be evaluated for your second choice. You are able to pick both an elementary and a secondary route area upon application; a first and second choice do not have to be in the same route.
Police Information Check
A current, clear Police Information Check, with a Vulnerable Sector Check, is required of all Bachelor of Education students for the field experience component of the program. Students who are unable to present a current and clear check will not be placed in their field experience courses – a graduating requirement of the degree – and be asked to leave the program.
Check out our Police Information Checks page for more details.
Routes and Teachables
When applying, you will need to select a route and a teachable subject area. Each route and teachable has differing admission requirements: find out what options you have, below, and then check out the associated admission requirements (note: not all listed teachables via the Calendar are available in the Community-Based pathway - please ensure to refer to the options below). Elementary route areas focus on grades kindergarten through six, and secondary on grades seven through twelve. Visit our Teachable Subject Areas page for more details!
Elementary route teachable subject areas

Early Childhood Education (Note: Emphasis on grades kindergarten through three)
English Language Arts
French
Mathematics
Science
Social Studies
Social Studies - Revitalization of Indigenous Languages

Secondary route teachable subject areas

English Language Arts
French
Mathematics
Science - Biology
Science - Chemistry
Science - Physics
Social Studies
The following information is for students applying with education completed outside of North America, regardless of whether the student is a Canadian citizen, permanent resident, or an offshore applicant.
When students with international credentials apply, their transcripts are first assessed by our central Admissions office to ensure that they present a recognized, accredited degree that is equivalent to the number of units/hours studied in a University of Calgary degree. Please note that this evaluation is not done until a formal application has been submitted, due to the volume of applications and inquiries that Admissions receives.
Assuming the applicant's prior coursework meets the minimum required standard (in this case, the degree must present 90 transferable units, or, 30 semester-long courses), their file would then be assessed for coursework requirements, and competitive admitting grade point average (GPA).
Applicants should thoroughly review the admission requirements detailed in the associated tab, above. Please note that the literature requirement is not the same as meeting English Language Proficiency. All applicants must present the course in literature (English or French); students presenting degrees completed in countries where English is not the primary language must present both the literature requirement, as well as prove English Language Proficiency.
For more information on converting your grades to the University of Calgary's 4.0 GPA scale, please visit this information hosted by the Faculty of Graduate Studies (although the Bachelor of Education After-Degree is an undergraduate degree, not a graduate degree, the grade conversion information below is useful for applicants to self-gauge their approximate GPA). Applicants to the University's graduate programs must present at least a 3.0 GPA, but students should be aware of the fluctuating competitive GPAs that vary across teachable subject areas. Applicants may also want to chat to Admissions regarding the grade-conversion process.
The Werklund School is transforming the way I think about education. It is teaching me how to help students engage in their learning. I feel more confident in my role as an educator, and through study and practice I am developing a personal pedagogy. I hope that by teaching youth, I will be able to help create positive change.
Sean Sager
Werklund Community Engaged Leadership Award recipient
Program sequence
Summer term courses will take place on-campus, during a two-week intensive in July. Fall and winter term courses will be offered via distance, or involve your in-classroom field experiences, in your home community.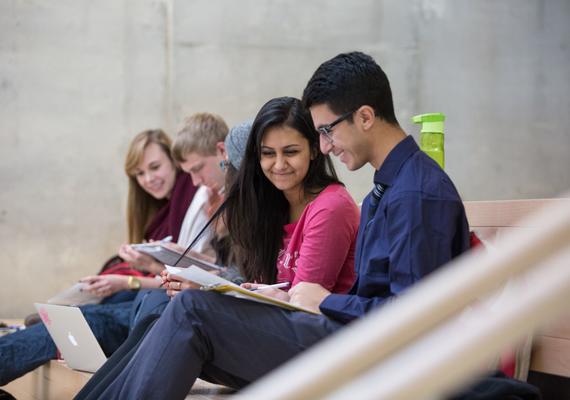 Creating Community
"The time I spent on campus was really amazing. It brought me back into the student mindset and really set the pace for what the whole year was going to look like. It was also nice to be able to meet my fellow classmates and be able to put faces to names."
 - Alexandra Crevier, BEd graduate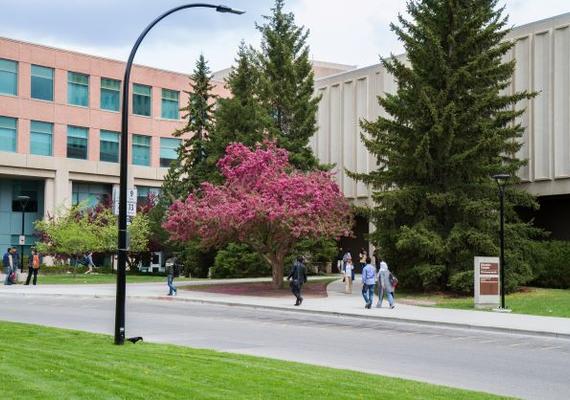 Summer Orientation
Each July, our Community-Based students join us on campus for Summer term courses, orientation activities, and to connect. Visit our orientation site for details on dates, sessions, and more!