Field Trip to Nose Hill Park
The Werklund School of Education is committed to working alongside and learning from Indigenous Elders, leaders, and communities. As part of Connecting Land to Teaching Pedagogy, Bachelor of Education students are invited to attend a half-day field trip to Nose Hill Park.
We will spend the morning walking, observing, listening, participating, and discussing. Blackfoot Elder Saa'kokoto (Randy Bottle) will join us and share stories and teachings, and work with Werklund faculty to support students to better understand how they can incorporate land into their teaching. Participants will have the opportunity to share their experiences with other students and contribute more richly to discussions in EDUC 530: Indigenous Education.
Nose Hill Park, a popular urban recreational area located close to the University of Calgary, is historically a traditional hunting ground and lives as a sacred site for the Blackfoot people. It is home to many more-than-human relatives; including unique grassland ecosystems, deer, coyote, porcupines, gophers, squirrels, mice, and many other four-legged, feathered, and insect beings. When we are attentive, there is much to learn from the stories alive on the prairie and in the coulees, skies, and mountain views.
The purpose of this experience is to engage with the teachings and stories of a local place and to explore how land-based pedagogies can come to life in places where we live, work, and play. This experience acknowledges that the observation and cultivation of human-earth relationships can support living, knowing, and learning to occur; and will exemplify the ways that this relationship can produce invaluable teachings. Participants will have the opportunity to appreciate being in place and enhance their understandings and imaginations of how to take up land-based learning in their own contexts.
Eligibility:
There is no fee for this trip.
This trip is recommended to students taking EDUC 530 however it is open to all Bachelor of Education students regardless of your program, route, or year of study.
Participants will be required to complete an Informed Consent Waiver before attending the trip.
Registration and the trip waiver must be completed by Thursday, September 30, 2021.
Logistics:
Participants must bring gear appropriate for the weather and environment (e.g., walking/light hiking gear)
Activities will include walking and light hiking for up to 90 minutes at a time
We strongly suggest that participants only bring essential items, as you will have to carry what you bring with you.
Participants should bring their own water and/or snacks as we are not able to provide meals as part of this trip.
Dates and Times:
On October 2, 2021, meet at the 14th Street parking lot at 8:50am.
The trip will begin at 9:00am - please make sure you are on time as we are not able to wait for late participants.
The trip will finish by 12:00pm.
Interested in this opportunity? Registration for Fall 2021 will be posted in September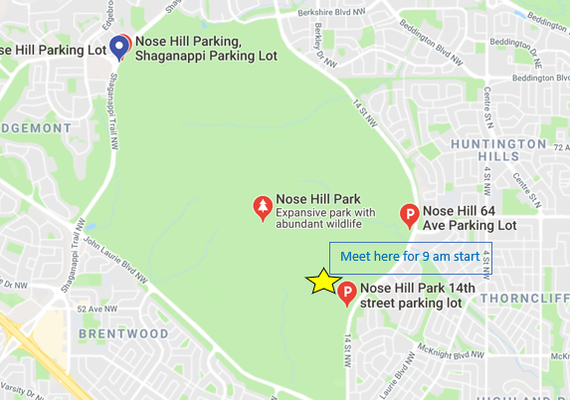 Questions? Get in Touch:
Caitlin Kane
Experiential Learning Facilitator
wse.community@ucalgary.ca