Important dates and upcoming events
April 2, 2021
The University of Calgary is closed today for Good Friday. We will re-open on Tuesday, Apr. 6th
April 9, 2021
4 Year BEd Student Registration Session 2:30-3:30pm
Newly admitted 4 Year Bachelor of Education students are admitted to join us to learn more about their program, how to choose courses, and how to register! 
April 15, 2021
Last day of classes for the Winter 2021 semester
April 17, 2021
U@UCalgary 
April 23, 2021
Last day of Field Experience IV. This is also the earliest graduating students can receive a Dean's Recommendation Letter if they've submitted all the necessary documentation.
Program sequence
Summer term courses will take place on-campus, during a two-week intensive in July. Fall and winter term courses will be offered via distance, or involve your in-classroom field experiences, in your home community.
Registration at UofC
The Registrar's Office has great 'how-to' registration tutorials and resources.
EDUC Registration Guide
Beyond the program sequence, above, you'll want to take a look at our detailed Registration Guide.
Email
All University of Calgary students must use their Ucalgary.ca accounts for any and all University of Calgary or degree-related correspondence. Email will not be sent to personal accounts.
You must additionally ensure to include your eight-digit UCID number in all correspondence.
Non-Standard Scheduling
Please note that Education courses are scheduled with 'non-standard' dates and times, and may differ from those semester timelines that you are used to in your non-Education courses. You should anticipate courses or field experiences that run outside of regular semester dates.
Synchronous Sessions
Your Fall and Winter Education courses are paced - and do have deadlines - as well as 'digital classroom' components. Classroom sessions are known as 'synchronous sessions', in which your class will connect simultaneously via the Zoom conferencing platform.
Classes usually have around four synchronous sessions per semester, often scheduled for around 4.30pm or later. You should refer to the Zoom schedule via your Registration Guide for more information.
Student Information
As a student in professional program, it is your responsibility to thoroughly review and abide by the information contained in the following pages: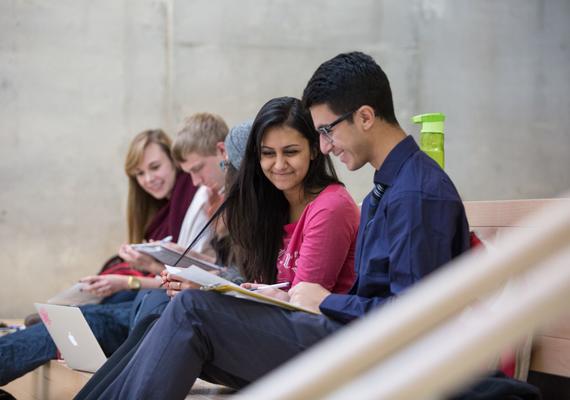 Creating Community
"The time I spent on campus was really amazing. It brought me back into the student mindset and really set the pace for what the whole year was going to look like. It was also nice to be able to meet my fellow classmates and be able to put faces to names."
 - Alexandra Crevier, BEd graduate
Summer Dates
2021 Dates
Due to the ongoing and evolving situation with COVID-19, the University of Calgary has moved to online course delivery for Summer 2021, meaning we will not be holding the on-campus classes. Online classes will begin on July 5, 2021 and will conclude on August 11th.  There will be two Zoom classes per week per course for the month of July but the two weeks in August will be asynchronous and are really intended for you to finish up any assignments you may need to finish.  In this way, we have tried to keep your in-person commitments to the month of July.
Online Success Program
Newly admitted students are required to complete the Online Success Program, designed to orient you to the platforms and skills necessary to be successful in an online learning environment. The program runs in June, and requires about 45 minutes to an hour of time daily.
Orientation
During your Summer terms, you will participate in orientation activities, built to familiarize you with the University community, resources that you can access (even during your distance-learning courses), and with faculty, staff, and fellow Education students. Check out our Community-Based Orientation site for details.